Syria
Syrian forces recapture five towns from Daesh in Homs province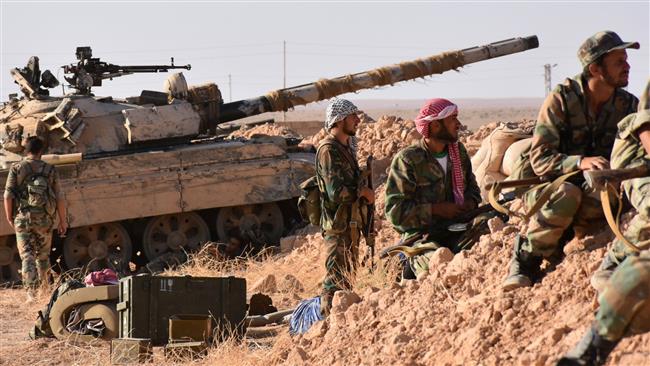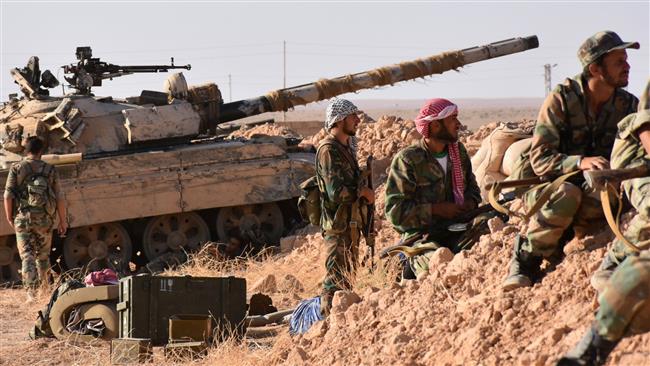 Syrian government troops, backed by fighters from allied popular defense groups, have taken back more areas from Daesh terrorists in the country's central province of Homs, a day after the Russian military announced that government troops were in control of 85 percent of the whole Syrian territory.
According to Syria's official SANA news agency on Wednesday, the Syrian forces managed to establish control over Zagroutiyeh, Darwishiyeh, Luwaibdeh, Ghuniman, and Umm Sagh, in the eastern parts of Homs earlier in the day.
The report, citing unnamed military sources, added that some 70 square kilometers had been liberated in the operation.
Army units, in cooperation with the allied fighters, also eliminated scores of Daesh militants and destroyed their weapons and equipment, including armored vehicles, they further said.
During the operation, engineering units dismantled landmines and explosive devices planted by Daesh terrorists along the roads and squares of the recaptured towns, the sources said, adding that the troops also restored control over Unk al-Hawa, Um al-Tababin and al-Khan villages.
On Tuesday, Lieutenant General Aleksandr Lapin, the Russian chief of staff in Syria, announced Damascus was in control of 85 percent of the Arab country's territories. He added that Syrian forces must now purge terrorists from the remaining 15 percent of the country, which amounts to 27,000 square kilometers.
Last week, Syrian government forces, backed up by Russia airstrikes, reached Dayr al-Zawr on the Euphrates River, breaking a three-year-long terrorist siege on the city and a nearby air base.
Daesh overran large parts of Dayr al-Zawr province, including its many oil fields, in mid-2014 as it seized swathes of land in Syria and neighboring Iraq.
By early 2015, the Takfiri terrorists were in control of some parts of Dayr al-Zawr city and besieged the remaining parts, which were under government control. It is estimated that 100,000 people remain in the government-held parts of the city.
The so-called Syrian Observatory for Human Rights estimates that more than 10,000 people may be living in the Daesh-held parts of Dayr al-Zawr.
Syria has been fighting different foreign-sponsored militant and terrorist groups since March 2011. The Damascus government has repeatedly blamed certain foreign countries for the spread of the devastating militancy.