Syria
Syrian forces retake villages near Homs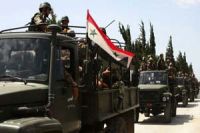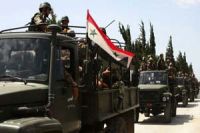 Syrian forces have regained full control of several villages on the outskirts of the western city of Homs following heavy clashes with foreign-backed militants. According to Syria's official news agency SANA, the Syrian army pushed militants out of the villages of al-Sultaniyeh, Salam Gharbi and Salam Sharqi and restored security and stability to the area.
An unknown number of militants were killed and a large amount of weapons were destroyed during the clashes.
Syrian troops also recaptured the regions of al-Lala and Qaser Ibn Wardan near the central city of Hama.
Footage released following the takeover shows that the surviving militants have burned the bodies of their dead comrades before fleeing in a bid to hide their foreign identity.
There are also reports of clashes between Syrian government forces and militants in Aleppo, Dara'a, and Damascus countryside.
There has also been infighting among militant groups fighting against the Syrian government in the eastern province of Deir ez-Zor. Reports say several militants were killed in the clashes.
A recent study by IHS Jane's, a British defense consultancy, shows that there are about 100,000 foreign-backed militants operating inside Syria, fragmented into 1,000 groups.