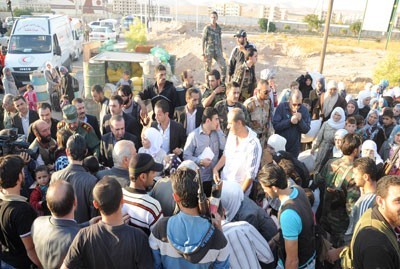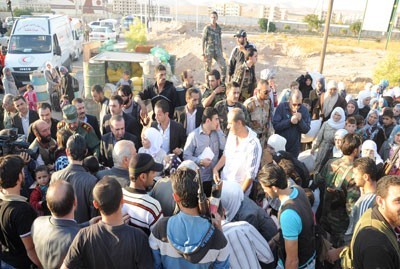 The Syrian government had brought thousands of civilians who were besieged in Muadamiyet al-Sham to temporary shelters, the ministry of social affairs announced.civilians evacuated out of Muadamiyet Al-Sham
"In light of the Syrian government's policy to protect its citizens from the acts of the armed terrorist groups, Ministry of Social affairs, in cooperation with Damascus countryside governorate and the Syrian Arab Red Crescent organization, brought 3000 children and women out of Muadamiyet al-Sham who were held hostage by the terrorists," official news agency, SANA, reported.
It quoted Minister of Social Affairs Kinda al-Shammat as saying in a statement on Sunday : "This initiative came after the terrorists prevented the humanitarian aid from reaching to the city."
The minister added that those children and women will be brought to temporary shelters equipped with all basic life needs.
"The Red Crescent has offered the necessary relief and emergency services to the citizens," Shammat said.