Syria
Syrian Journalists' Union Condemns Armed Terrorist Groups' Targeting of Journalists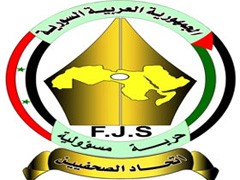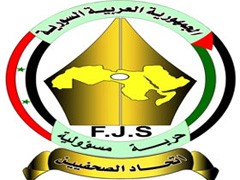 The Syrian Journalists' Union condemned the assassination, the kidnapping and the killing acts committed by the armed terrorist groups against journalists.
In a statement issued on Thursday, the union said that the terrorist bombing against a bus in al-Mezzeh 86 neighborhood on Wednesday which claimed the lives of a number of citizens, among them journalist Anmar Yasin Mohammad who worked at the Syrian TV, reveals the hatred and criminality of Syria's enemies and their tools.
The statement considered that targeting government institutions and workers is an evidence on the reality of the conspiracy against the Syrian state.
It added that targeting the Egyptian journalist Husseini Abu Daif, from the Egyptian al-Fajr newspaper by Morsi's gangs while carrying out his national duty in covering protests in Egypt and the attacks against Tunisian journalists and intellectuals stress that the demands for freedom are but allegations while the main goal is to seize power in service of the western scheme in the region.
The union offered deep condolences to Martyr Anmar Mohammad's family and colleagues at the Radio & TV General Organization and Abu Daif's family and the Egyptian citizens.
It concluded that terrorism against the people in Syria, Egypt and other Arab countries is one, stressing that the resistance will achieve victory.
IJF Condemns Terrorist Groups' Abduction of Ukrainian Journalist in Syria
The International Federation of Journalists (IJF) condemned the abduction of the Ukrainian journalist Anhar Kochneva by armed terrorist groups in Syria.
Head of the IJF, Jim Boumelha expressed in a statement his concern over the safety of the journalist and solidarity with her, affirming that the kidnappers bear responsibility if anything bad happens to her.
President of the European Federation of Journalists, Arne Konig expressed solidarity with the kidnapped journalist, adding "It is a shame that journalists are kidnapped for ransom." He indicated that the family of the journalist is being blackmailed by the kidnappers.
Earlier, Kochneva's mother launched an appeal for her daughter's release and appealed to her government and Russia for help.
Kochneva was kidnapped by an armed terrorist group in early October in Syria. The kidnappers demanded $ 50 million ransom for releasing her.