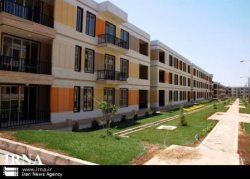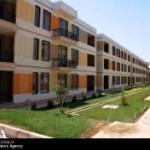 Speed of construction industry of Iran is surprising, Syria's Housing Minister Hala Mohammed Nasser said on Sunday.
"The construction of 100 thousand construction units in Parand region of Iran in just two years is a big step and very surprising," he expressed.
Mohammad Nasser noted that construction industry of Iran is very progressive and developed.
He further noted that fortunately, the two countries' ties are currently at the highest level.
Iran's Mehr Housing Scheme is a unique project, Syria's Housing Minister said, hoping that the two countries' cooperation in the field will bolster.
He was also optimistic that his country will use Iran's experience in the housing sector.
Iran-Syria cooperation in housing sector is to start as of 2012.
In recent years, the construction industry of Iran has been thriving due to an increase in national and international investment to the extent that it is now the largest in the Middle East region.
In 2011, Iran implemented a national electronic system for the registration and tracking of real estate transactions in order to bring more transparency to the market.
As of January 2011, the banking sector, particularly Bank Maskan has given loans to applicants of Mehr housing project.
Under this scheme real estate developers are offered free lands in return for building cheap residential units for first-time buyers on 99-year lease contracts. The government then commissioned agent banks to offer loans to the real estate developers to prepare the lands and begin construction projects in an attempt to increase production and create equilibrium in the supply and demand curve.
Iranian contractors have been awarded several foreign tender contracts in different fields of construction of dams, bridges, roads, buildings railroads, power generation, and gas, oil and petrochemical industries. The availability of local raw materials, rich mineral reserves, experienced man power have all collectively played crucial role in wining the international bids.