Syria
Syrian PM Al-Halqi: Palestinian cause will remain Syria's top national concern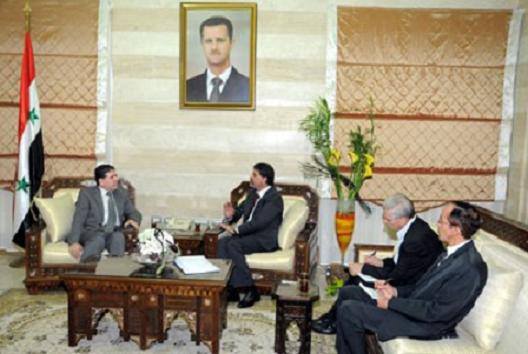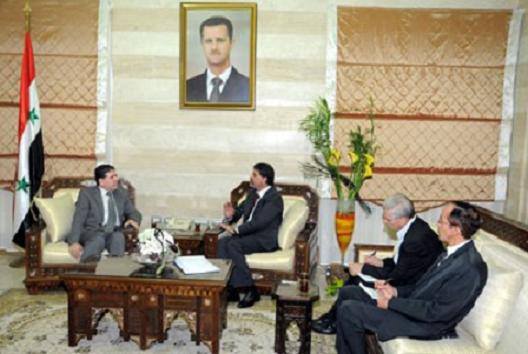 The Palestinian cause will remain Syria's top national concern, Prime Minister, Dr. Wael al-Halqi said, indicating that Syria won't relinquish the firm stances of the Arab nation.
During his meeting on Saturday with Director of the Political Department of the Palestine Liberation Organization (PLO) Anwar Abdulhadi, al-Halqi said Syria will always call for setting the Arab house in order for confronting the enemies of the Arab nation, primarily Israel and the takfiri terrorist groups.
Al-Halqi indicated that the conspiracy against the Arabs target every honest Arab and every progressive project for the Arab nation, adding that Syria is being targeted because of its position as the bulwark that is defending the issues of the Arab nation.
The premier hailed the PLO support to the Syrian people against the conspiracy, underlining the importance of bolstering bilateral relations at all levels.
Syria will emerge victorious from the crisis thanks to the steadfastness of the Syrian people and army and the support of friends, al-Halqi said, saying he is upbeat that Syria is headed for more victories.
Al-Halqi made clear that solving the crisis in Syria is only political through implementing the political program for solving the crisis and the genuine international initiatives, reiterating that Syria will participate in Geneva 2 conference without preconditions.
The PM said the government has its hand extended to every honest Syrian citizen who is interested in preserving the Syrian state and rejects foreign interference in its affairs, pointing out that "some opposition voices abroad are now outdated, and new voices that call for reaching out to the Syrian government will soon emerge."
The heroes of the Syrian army who were the architects of victories in October Liberation War will continue to astound the world with victories on the Syrian soil, al-Halqi said.
For his part, Abdulhadi stressed that most of the Palestinian factions stand by the Syrian people and their leadership who has proved to be the real expresser of the voice of the Arab right.
Talks during the meeting centered on the latest developments in the region and the world, the challenges facing the Arab nation and the victories of the Syrian army that helped roll back the expanding Takfiri current.