Middle East
Syria
Syrian PM al-Halqi Stresses Clergymen's Role in Facing Extremist Wahhabi Thinking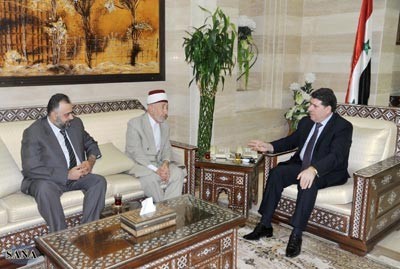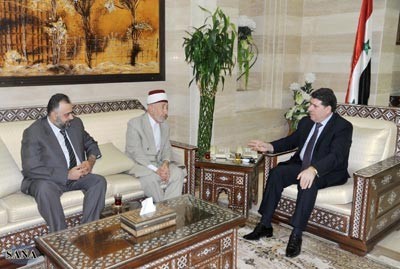 Prime Minister, Dr. Wael al-Halqi, underscored the important role of the religious institutions, scholars and clergymen in condemning terrorism and extremism and enhancing tolerance and national unity among all spectrums of the Syrian society.
Meeting on Wednesday Head of the Levant Scholars' Union, Dr. Mohammad Saeed Ramadan al-Bouti, Premier al-Halqi stressed the role of clergymen in facing the extremist wahhabi thinking and consolidating the spirit and values of the true Islam that are deeply rooted in the Syrian people, including fraternity, tolerance and rejection of violence.
He also highlighted the clergymen's role in encouraging and calling for dialogue to achieve the national reconciliation which fulfill the aspirations of the Syrian people.
Al-Halqi and Dr. al-Bouti reviewed during the meeting, which was attended by Minister of Religious Endowments (Awqaf) Mohammad Abdul-Sattar al-Sayyed, the current situation in Syria and the foreign challenges and conspiracies facing it and which aim at undermining the country's sovereignty and disrupting its security and stability.
The Prime Minister hailed the positive impact of the religious speeches and sermons of al-Bouti and other mosque imams in terms of laying bare the takfiri thinking and calling for unity in the face of all conspiracies and those standing behind them and backing them with money and weapons.