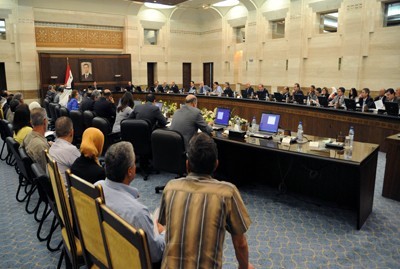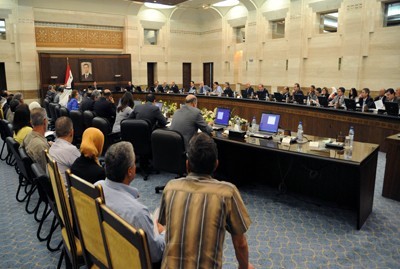 Prime Minister, Dr. Wael al-Halqi instructed the ministries and public institutions to "rationalize and adjust the current and investment expenditure", stressing the importance of carrying through with the projects of big economic feasibility that have a completion percentage of 60 percent.
Al-Halqi was speaking during a meeting of the Supreme Economic and Social Planning Council to study the bases and orientations for preparing the state's budget for the year 2014, its revenues and current and investment approbations.
Al-Halqi called on ministries to double the efforts to provide the citizens' needs so as to be able to square up to the conspiracies targeting Syria.
The PM highlighted the challenges and difficulties besetting national economy under an unfair embargo and outside sanctions, coupled with terrorist vandalism acts, which requires everyone to work as one team to iron them out.
Al-Halqi called for reducing squandering and maintaining foreign exchange, pointing to the economic measures and policies of the Monetary and Credit Council and the Central Bank of Syria to stabilize the Syrian pound exchange rate.
The relief file is a pressing one that requires double efforts as a result of internal displacement prompted by the crisis, al-Halqi said, pointing out that the government accords great care to the relief programs and reconstruction.
The government has allocated SYP 50 billion to relief aid in the 2014 budget as compared to 30 SYP billion in 2013 budget, stemming from its commitments to compensate for the affected citizens, al-Halqi said.
The Premier stressed the importance of providing basic goods for citizens and "prioritizing food, medicine and energy security in the government's work plan and its development and service programs."
Al-Halqi also instructed the Supreme Economic and Social Planning Council to increase the financial allocations to the positive intervention establishments of the Ministry of Domestic Trade and Consumer Protection, applying stringent observation of prices and establishing new bakeries.