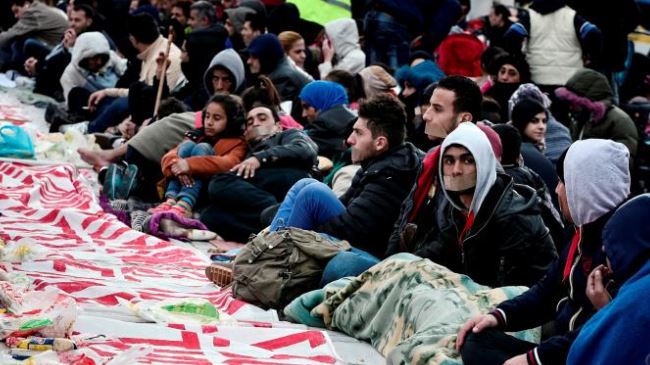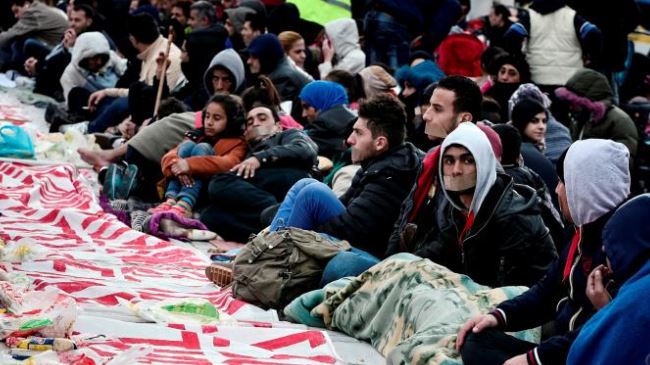 Over 200 Syrian refugees who have fled the foreign-back militancy in their country have launched a hunger strike in the Greek capital Athens.
The refugees, who began their protest last week, started their hunger strike in front of the Greek parliament on Monday, calling on the government to grant them temporary working and residence rights.
They have been sleeping on the streets of Athens since November 19.
"People are living in bad conditions. We get (temporary) travel documents, but we can't go anywhere. We can't work, or go to hospital, or rent a place to live," said Khaldoon Fadel, one of the protesters.
A number of the hunger strikers sat on the sidewalk and covered their mouths with tape.
Greece is an entry point for refugees seeking to travel to the European Union. The debt-ridden country has witnessed a surge in the number of Syrians crossing by boat from nearby Turkey.
Syria has been gripped by deadly violence since 2011. Millions of Syrians have fled their homes as a result of the conflict.
Syria's neighbors, including Lebanon and Jordan, have warned that they have reached their threshold for accommodating the displaced Syrians.
UN High Commissioner for Human Rights Zeid Ra'ad Zeid al-Hussein has said more than 200,000 people have died in the Syrian conflict since March 2011.