Syria
Syrian troops further push towards Aleppo, kill 19 terrorists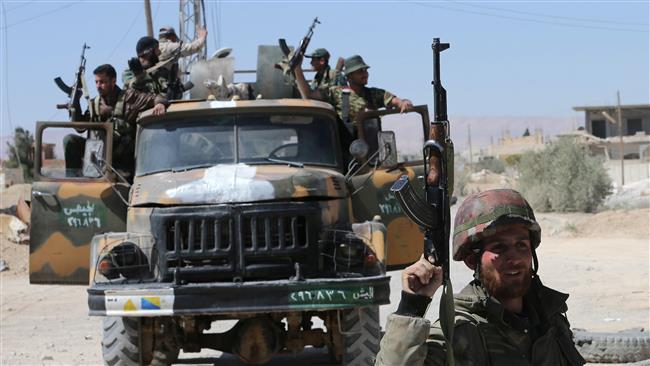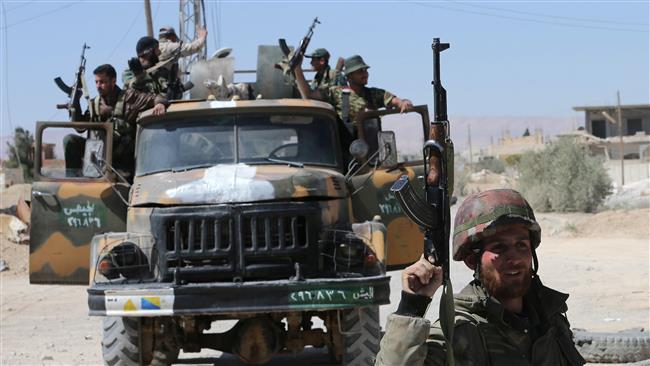 At least 19 Takfiri terrorists were killed near Syria's northern city of Aleppo, where government forces have been tightening the noose around militant groups.
According to a Sunday report by the so-called Syrian Observatory for Human Rights, members of the al-Qaeda-linked al-Nusra Front group were killed during the past 24 hours near Aleppo's Khalidiya neighborhood and the village of Khan Tuman, where "fierce fighting" is underway between Syrian army forces and terrorists.
The report added that 16 members of the government forces also lost their lives in the clashes.
Earlier on Sunday, Syrian army units, in cooperation with popular defense groups, retook Barneh and Zaytan villages, which lie south of the provincial capital Aleppo, the latest in a string of victories won by government forces over terror groups in the war-hit country.
"With our Russian partners we are preparing an operation to free Aleppo and block all illegal armed groups that have not joined or have broken the ceasefire deal," said Syrian Prime Minister Wael al-Halqi on Sunday after a meeting with Russian lawmakers in the capital Damascus.
The premier noted that retaking Aleppo would allow the army to advance toward Dayr al-Zawr, which is held by Takfiri militants.
A truce that was brokered by the United States and Russia and went into effect on February 27 does not apply to the fight against al-Nusra Front, the Daesh Takfiri terrorist group and their allies.
The Syrian government is also involved in indirect negotiations with opposition groups on a political settlement of the crisis in the Arab state. A new round of discussions is to resume between the two sides in Geneva later this month.
According to a February report by the Syrian Center for Policy Research, the ongoing Syrian conflict has claimed the lives of over 470,000 people, injured 1.9 million others, and displaced nearly half of the pre-war population of about 23 million within or beyond borders of the conflict-ridden Arab country.
Damascus accuses Saudi Arabia, Turkey, and Qatar of funding and arming anti-Syria terrorist groups, including Daesh.