Syria
Syrian troops make more gains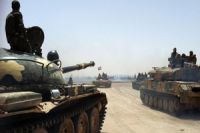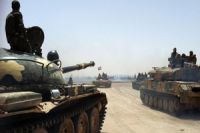 The Syrian army continues to gain more ground in its fight against Takfiri militants in several areas across the Arab country.
According to a military source, who spoke on condition of anonymity on Thursday, the government troops stormed the militants' hideouts in Om al-Reish village in Homs countryside, killing a number of them.
The army units battled foreign-sponsored militants in Daraa countryside, killing and injuring scores of them.
The government troops also killed a large number of militants in Khrab Askar and Tal Staiyeh in Qamishli countryside.
The troops destroyed several vehicles loaded with weapons and ammunition near the Industrial City in Sheikh Najjar region in Aleppo.
Syrian government forces attacked the militants in Damascus' Barzeh neighborhood, killing a number of the militants.
Earlier in the day, the Syrian army recaptured the town of Deir Attiyeh in Qalamoun area.
Syria has been gripped by deadly unrest since 2011. According to reports, the Western powers and their regional allies — especially Qatar, Saudi Arabia, and Turkey — are supporting the militants operating inside Syria.
According to the United Nations, more than 100,000 people have been killed and millions displaced in the violence.