Middle East
Syria
Syria's Assad censures some countries' double standards in terror fight
Syrian President Bashar al-Assad has lambasted the policy of double standards certain countries have adopted in the fight against terrorism.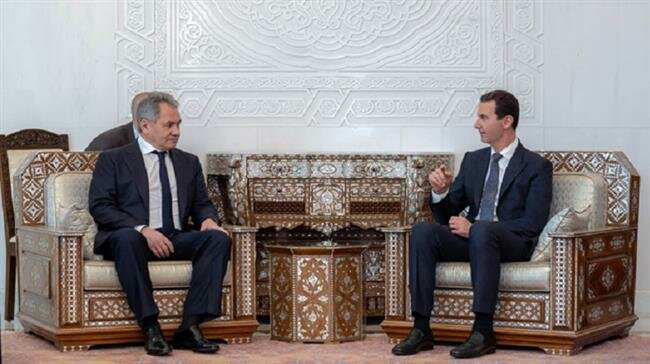 The Syrian leader made the comments in a meeting with Russian Defense Minister Sergei Shoigu in the capital Damascus on Tuesday.
Assad said some countries have confined the fight against terrorism to issuing official statements while "in reality" they "support terrorism and work with it" and further offer "protection" to terrorists in a number of areas.
According to a report by the official Syrian Arab News Agency (SANA), Assad said by pursuing double-standard policies, these countries put themselves behind the huge civilian casualties and, moreover, help spread the persistent terrorism as we witness today.
Shoigu, who handed a message from Russian President Vladimir Putin to the Syrian president, said for his part that Russia fully supports the Arab country in its eight-year-old battle against terrorism.
"Russia will continue offering all forms of possible support to the Syrian people to complete liberation of all Syrian territories and preserve the territorial integrity, sovereignty and independence of Syria," the Russian minister said.
The United States has been leading a coalition consisting of some of its allies, most notably France and the UK, in what it has termed as fighting terror in Syria since 2014. Damascus has invariably called for the coalition's withdrawal, asserting that it rather serves to boost the terrorism that has been targeting the Arab nation.
The military alliance has repeatedly been accused of targeting and killing civilians. It has also been largely incapable of achieving its declared goal of destroying the Takfiri Daesh terrorist group.
"The Americans must leave and will leave," Syria's defense minister says.
Daesh, which once held large swaths of land in Syria, has been completely defeated in the Arab country and has lost almost all of its occupied territories. Despite the terror group's collapse, the US-led coalition has refused to end their aerial operations in defiance of the Damascus government.
In contrast, Russia started an aerial bombardment campaign against foreign-backed militants in Syria on a formal request from the Syrian government in September 2015.
Together with Iranian advisory military assistance, the Russian campaign has helped the Syrian military liberate almost the entire country.