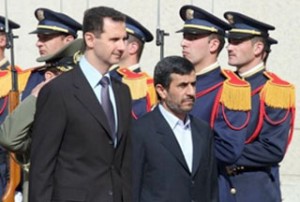 The US State Department spokesman says President Mahmoud Ahmadinejad's visit to Syria will undermine Damascus' position in the Middle East.
Philip Crowley told reporters on Thursday that the US has expressed concerns to Syrian President Bashar al-Assad about his country's relationship with Tehran.
"This is ultimately a decision that Syria has to make," dpa quoted Crowley as saying.
"But I think as President Assad assesses Syria's long-term interest, he need only look around the region and recognize that Syria is increasingly an outlier," he added.
Ahmadinejad and Assad held a joint news conference in Damascus on Thursday.
The Syrian president said at the joint news conference that he was "surprised" at US calls for Syria to distance itself from Iran.
"I am surprised by their call to keep a distance between the countries … when they raise the issue of stability and peace in the Middle East, and all the other beautiful principles," al-Assad told reporters.
President Ahmadinejad for his part said that "relations between Syria and Iran are brotherly, deep, solid and permanent."