Syria
Syria's Lattakia- Quick summary on attacks from Turkey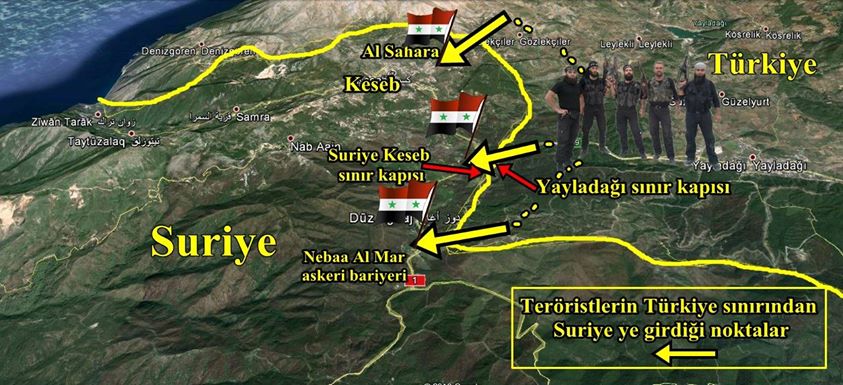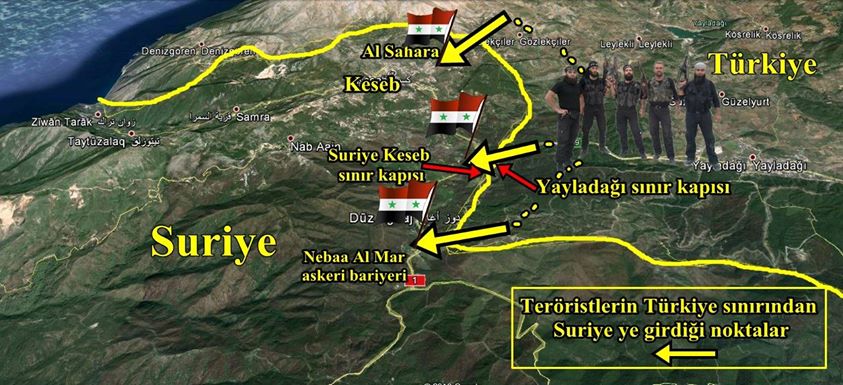 What is currently taking place around "Kesab" and the border regions with Turkey, is a ground assault by large numbers of Armed Terrorists attacking from Turkish territory with full support and coverage by the Turkish authorities ..
1. – The attacks were launched yesterday at dawn with the major aim to control Kesab ..
2. – The attacks have failed to achieve their goals and are continuing ..
3. – The heroic steadfastness of the Syrian Forces in the region backed by the quick reinforcements sent after the first attack, resulted in the Terrorists failing to exploit the element of surprise for a quick victory they expected ..
4. – Despite the Terrorists failure and inability to control "Kesab" or "Point 45", TV Channels hostile to Syria are broadcasting false news aimed at a psychological win.
5. – The overall situation is thankfully good, and extra reinforcements have arrived to participate in the battle …
The Map indicates the Turkish Village of "Yaladagi" where the Armed Mercenaries launched their attack yesterday against the Kesab Border Crossing 5 km away, and where there is full facilities set up by the Turkish authorities, including a field hospital for the Terrorists wounded in battle.
LNN