Middle East
Syria
Tahrir Al-Sham Terrorists Fail to Gain Back Lost Areas in Hama, Idlib after Syrian Army's Counteroffensive
The Syrian Army foiled attacks by Tahrir al-Sham al-Hay'at (the Levant Liberation Board or the Al-Nusra Front) aimed at retaking control of their already lost areas in Northwestern Hama and Southern Idlib.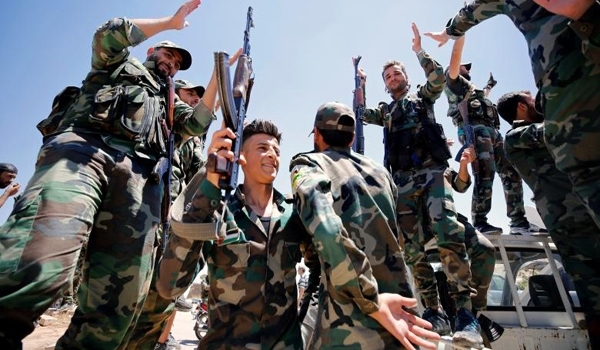 The Syrian Army engaged in fierce clashes with Tahrir al-Sham terrorists who had attacked the government forces' military positions in al-Hamimiat and al-Jabin axis.
A large number of invading terrorists were killed and wounded in clashes with the Syrian Army and others retreated.
The Syrian Army's artillery units, meantime, targeted the terrorists' military positions in Kafr Zita, al-Bavizeh, al-Latamaneh, al-Arbaeen, al-Zuka and al-Hobait, killing and injuring several of them.
The Arabic-language al-Watan newspaper also reported that the Syrian Army killed the entire members of a group of Tahrir al-Sham terrorists, including their military commander namely Osama Hussein al-Dib, in an ambush operation.
In a relevant development on Monday, the terrorist groups launched massive offensives on the Syrian Army's military positions in the battlefronts against the government forces in the battlefronts in Northwestern Syria despite implementation of ceasefire there, media reports said.
The Arabic-language Al-Watan newspaper quoted a Syrian Army's military source as saying that the terrorist groups pounded the surrounding areas of the town of al-Hamamilat with rockets and mortars from several towns and villages in Northwestern Hama.
The source noted that the Syrian army's artillery and missile units also pounded the terrorists' military positions in al-Hawiz, Karkat, Kafar Zita, al-Jabin, Jeb Suleiman, al-Hawija, Tal al-Sokhr and al-Zuka in Northern Hama, destroying several of their military positions and hideouts.
It, meantime, said that the so-called 'Elite Forces' affiliated to Ankara-backed Jbahat al-Shamia have been sent to the battlefronts in Northwestern Hama.
Meantime, the terrorist groups pounded ten settlements in Lattakia, Hama and Idlib with artillery units despite the unilateral ceasefire declared by the Syrian army.
Meantime, Chief of the Russian Center for Reconciliation of the Opposing Parties in Syria Viktor Kupchishin said two Syrian servicemen were killed and seven more were wounded in the terrorists' attacks.