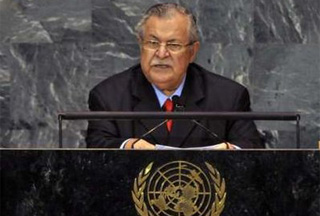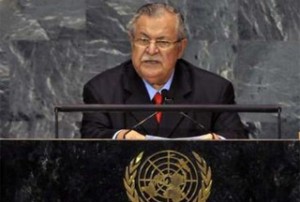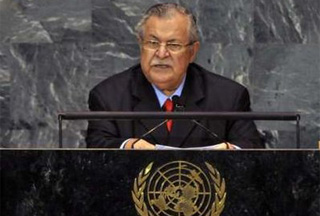 The Iraqi President urges the removal of Iraq from Chapter VII of the UN Charter and an end to sanctions slapped against his country following Saddam Hussein's invasion of Kuwait
Addressing the UN General Assembly in New York on Thursday, Jalal Talabani said international community should halt the unjust compensation for the actions of now executed dictator Saddam Hussein.
"Iraq no longer threatens international peace and security," he said. "And therefore we call on the international community to adopt measures so that Iraq will no longer be subject to Chapter Seven of the Charter of the United Nations. We call on the international community to take all the measures needed to lift all actions undertaken by the Security Council against Iraq based on this chapter with regard to compensation."
Under United Nations Security Council resolutions, Iraq must satisfy Kuwaiti demands on reparations and the return of property, as well as demarcation of their shared border and the repatriation of the remains of prisoners of war.
Baghdad currently pays 5 percent of the proceeds from oil sales to a special fund at the United Nations as compensation for the Saddam 1990 invasion of its Arab neighbor. Kuwait has received about 13 billion dollars from Iraq but a further 25.5 billion dollars remains unpaid.
Elsewhere in his speech, Talabani made references to security gains across war-torn Iraq and highlighted incremental successes in Baghdad, Basra, Diyala and Mosul, provinces. He sated that the government seeks to assume responsibility for all provinces by the year's end.
The Iraqi leader also appealed to the UN member states to recognize violence lull accomplished by Iraqi security forces and to open diplomatic missions in Baghdad.