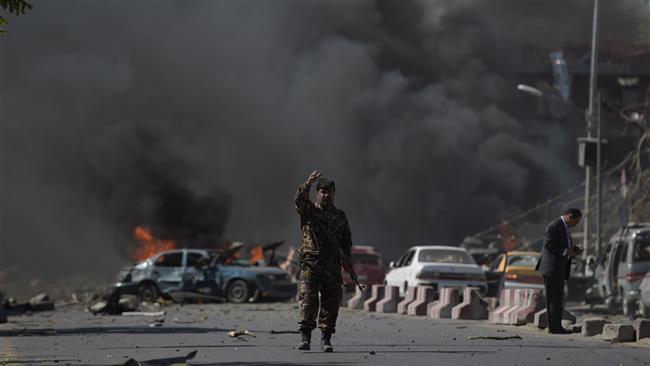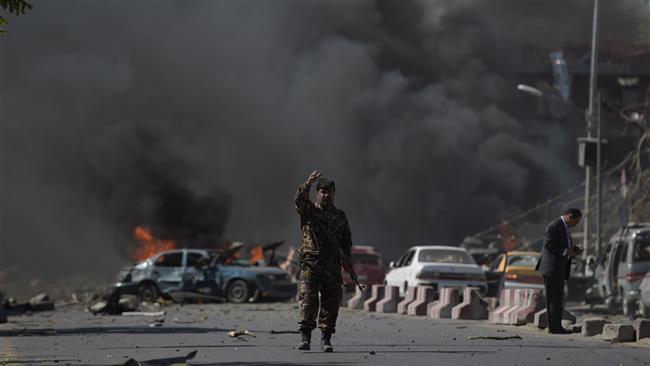 At least 13 people have been killed and several more injured in a Taliban bombing attack on a convoy of troops in Afghanistan's Helmand province.
"A suicide bomber detonated an explosive-filled car as the Afghan National Army convoy passed a small market in Nawa District of Helmand," said the spokesman for the provincial governor, Omar Zwak, on Sunday.
The spokesman noted that civilians and members of the military were among the dead and injured.
A local medical source claimed that 19 people had been injured in the blast.
"The majority of the dead belong to Afghan forces and most of the wounded are civilians," he added.
Following the incident, the Taliban claimed responsibility by directly sending messages to the media.
The attack comes just a few days after at least five people were killed and over two dozen wounded when a car bomb exploded at a police headquarters in Afghanistan's southern Helmand province.
The blast took place in Lashkargah, Helmand's provincial capital, on Wednesday, with the Taliban militant group claiming responsibility for the bombing.
Taliban militants have warned that they will be stepping up their attacks until the US forces fully withdraw from Afghanistan after more than a decade and half of occupation.
US President Donald Trump has resisted repeated requests by the Pentagon to approve the deployment of another 4,000-strong US force to Afghanistan, which the US military says is needed to boost the so-called counter-terrorism operations in the country.
The United States invaded Afghanistan in October 2001 after the September 11 attacks on New York and Washington, and overthrew the Taliban regime. But US forces have remained bogged down there through the presidencies of George W. Bush, Barack Obama and now Trump.