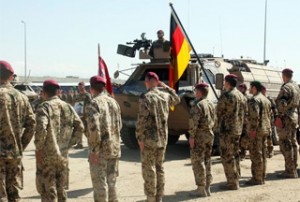 A bomb attack has injured at least two German soldiers in northern Afghanistan amid the escalation of violence in the war-torn country.
A NATO statement said Sunday that the bomb went off near their convoy in Konduz province.
The Taliban have claimed responsibility for the bombing.
Militant attacks across Afghanistan have killed 29 foreign soldiers over the past six days. The rising number of NATO fatalities has slashed support for the Afghan war in both the US and Europe.
Germany has about 4,500 soldiers in the relatively quieter northern Afghanistan, making it the third-largest foreign contingent after the US and Britain in the country.
US President Barack Obama wants Germany to add thousand of more troops and increase its geographical span to include the volatile south and east.
Despite the presence of nearly 130,000 US-led soldiers in the war-torn country, civilians continue to pay the price for the 2001 invasion that sought to uproot the Taliban.