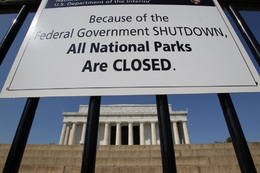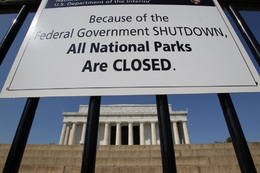 Talks in the White House failed on Wednesday to end a current government shutdown, with both Democrats and Republicans accusing others of refusing to move off hardened positions.
President Barack Obama met for more than an hour with Republican House Speaker John Boehner, Senate minority leader Mitch McConnell, Senate Democratic leader Harry Reid and House Democratic boss Nancy Pelosi.
But there was no US shutdownsign that the talks made headway in ending a dispute that has sent hundreds of thousands of federal workers home, shuttered museums and national parks and threatens to dampen already sluggish economic growth.
"The president reiterated one more time that he will not negotiate," Boehner said, emerging into a warm Washington night after the West Wing talks.
Obama said in an interview with CNBC that he would not negotiate on budget matters until Republicans had passed a bill to reopen the government and raise the $16.7 trillion dollar US debt ceiling — a move that must happen within two weeks or Washington could default on its obligations for the first time.
After the inconclusive talks, Obama's spokesman Jay Carney issued a statement saying that his boss hoped "common sense" will prevail.
Meanwhile, Obama sent Wall Street a blunt warning that it should be very worried about a political crisis that has paralyzed the federal government and could yet trigger a US catastrophic debt default.
On the other hand, Senate Democrats have repeatedly blocked Republican House funding bills that seek to dismantle or delay Obama's signature health care reform bill.
The impasse left the government without a budget for the new fiscal year, and the shutdown with go into a third day on Thursday.
Obama earlier said he was "exasperated" by the budget impasse in Congress, in an interview apparently designed to pressure Republicans by targeting the financial community.
Obama was asked in the interview whether Washington was simply gripped by just the latest in a series of political and fiscal crises which reliably get solved at the last minute.
In unusually frank comments on issues that could sway markets, Obama warned that investors should be worried.
"This time's different. I think they should be concerned," Obama said. "When you have a situation in which a faction is willing potentially to default on US government obligations, then we are in trouble."