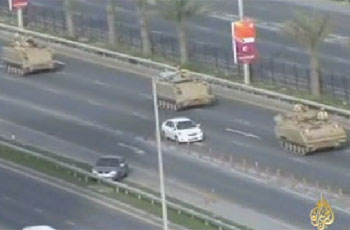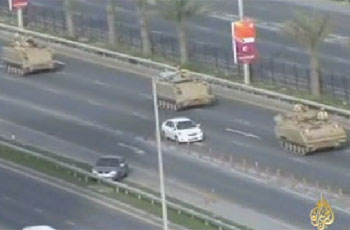 Tanks in the Bahraini capital, Manama, prevent ambulances from taking the victims of clashes to hospitals, as the pro-democracy uprising in the country has entered its fourth day, a report says.
The report also added that Bahraini security forces attack and beat medical workers who are helping the victims on Thursday.
Pro-democracy uprising in Bahrain has entered its fourth day, as protesters, inspired by revolutions in Egypt and Tunisia, have taken to the streets to protest against the government's dictatorial policies.
More than a dozen army tanks and several military ambulances and trucks are seen in a main highway in the central Manama.
According to witnesses, the nearby roads have almost been cleared of civilian traffic.
Security forces have also put up barbed wire around Pearl Square.
On Thursday, security forces raided the protesters camped out in Pearl Square in central Manama and fired tear gas and rubber bullets at the people to disperse them, Reuters reported.
Six people were killed and over one hundred were wounded in the incident, raising the number of the deaths to seven since Monday.
At least 2,000 protesters were occupying the Pearl Square on Wednesday, calling for a new constitution and an elected prime minister.