Asia-Pacific
Iran
Korea
Middle East
Tehran rejects rumors of releasing South Korean-flagged tanker seized by IRGC
Iran's Foreign Ministry has rejected rumors about the release of a South Korean-flagged tanker that was seized in the Persian Gulf waters earlier this month by the Islamic Revolution Guards Corps (IRGC) for repetitive violation of maritime environmental law.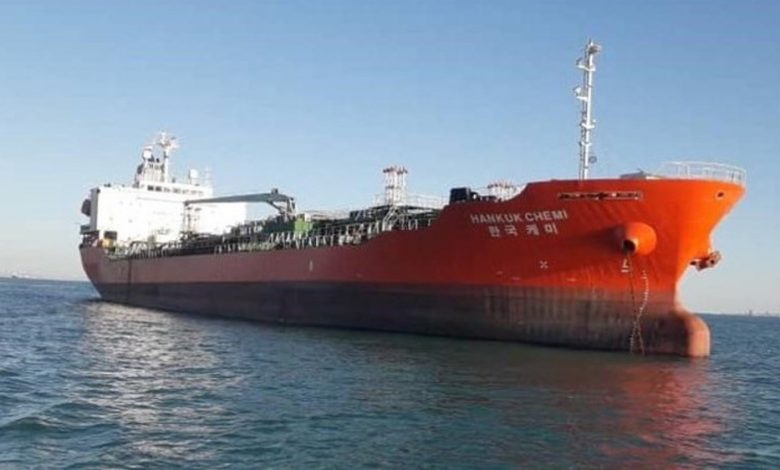 "The positions and decisions of the Judiciary will be solely announced by its esteemed spokesman, and the statements of non-officials in this regard have no validity," Foreign Ministry spokesman Saeed Khatibzadeh told reporters on Saturday evening.
Khatibzadeh said the tanker was seized upon a Judiciary order due to causing environmental pollution in the Persian Gulf waters, adding that the legal proceedings of the case are underway.
Therefore, he said, any development regarding the issue depends on the opinion of the respected Judiciary.
On January 4, the IRGC Navy announced the seizure of the tanker HANKUK CHEMI, which had departed from the Petroleum Chemical Quay in Saudi Arabia's Jubail port, for polluting the Persian Gulf waters with chemicals.
It said the ship, which carried 7,200 tones of ethanol, is at Iran's southern Bandar Abbas port city, and its crew members, who hail from South Korea, Indonesia, Vietnam and Myanmar, have been detained as well.
The IRGC added that the tanker was seized at the request of Ports and Maritime Department of Hormogzan Province and upon a judicial order by the provincial prosecutor.
Iran's rejects claims that the seizure of the ship is related to the issue of Tehran's frozen funds in South Korea over US sanctions, saying the ship was impounded due to technical reasons that are common.
Foreign Minister Mohammad Javad Zarif reiterated last week that the South Korean-flagged tanker was seized for polluting the Persian Gulf waters, adding, "This is a merely technical issue, which is under investigation within the framework of legal and judicial regulations."
He made the remarks at a meeting with South Korea's visiting First Vice Foreign Minister Choi Jong-kun on January 11, following a call by the South Korean diplomat for accelerating the settlement of the issue.
It is not possible for the Iranian administration to interfere in the judicial proceedings involving the tanker, Zarif said.