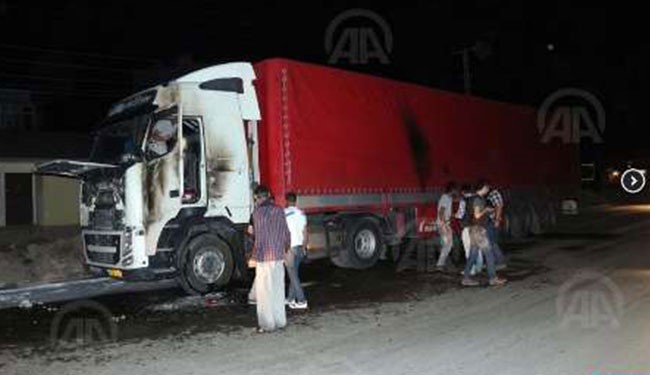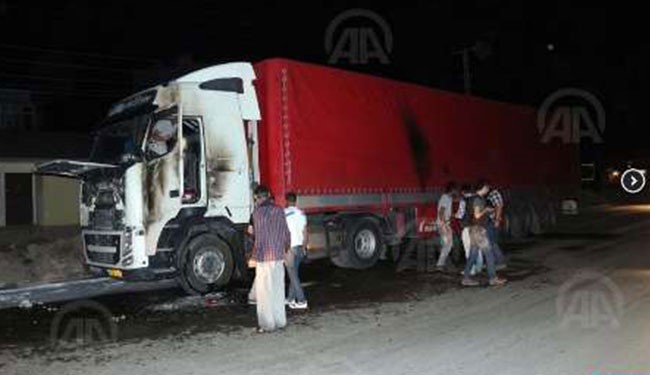 Ali Shamkhani Secretary of Iran's National Security Council (SNSC) warned that Tehran will crush any terrorist move that aims to tarnish its relations with its neighbors.
"Certain terrorist groups which are attempting to darken our relations and make insecure the trade routes of Iran and its neighbors will see our iron fist," Shamkhani said, addressing a meeting in East Azarbaijan province on Thursday.
His remarks came after several Iranian trucks came under attack after they crossed Bazargan border checkpoint and arrived in Turkey on Monday.
No one was killed or wounded in the incident, but two trucks and their cargo were completely burnt.
This was the second attack of its kind after an Iranian truck was completely burnt in a terrorist attack in Turkey earlier this month, and it has apparently infuriated people in Tehran as officials have asked Ankara to make up for the losses of the Iranians.
Tehran has asked for compensation from Ankara, and the Turkish ambassador to Tehran has vowed to follow up the case.
Iranian officials called on local truck and bus drivers to avoid unnecessary trips to Turkey.
According to reports, Turkey had closed its borders Tuesday night to prevent further damage to Iranian passenger buses and trucks, but Iran still allowed Turkish buses and trucks to cross the border with Iran, explaining that security conditions was fragile only in Turkey and not in Iran.
Also earlier this month, the PKK terrorists attacked a bus of Iranian tourists in the Turkish province of Van.
The Iranian passenger bus came under the PKK attack in Çaldıran district of Van, the Turkish-language Daily Sabah news website reported.
Meantime, Iranian Ambassador to Ankara Alireza Bigdeli said that no one died during the attack by unknown gunmen on the Iranian passenger bus near the city of Van and only 1 people has just been wounded.
On July 30, Terrorists attacked the Ankara-Tehran train in Turkey's Bingol province.
The attack took place in Ganch region of Turkey's Bingol province and in relation to a mine explosion.
Salim Kusshgar, the governor-general of Bingol province, said that the Ankara-Tehran passenger train, called the Trans Asia Train, was attacked by the PKK terrorist group.
"A number of the train's wagons were damaged, but the explosion caused no human casualties and the train continued its procession," he added.
The mine was exploded using a remote control device, Hurriyet wrote.
The PKK has increased its operations inside the Turkish soil after Ankara's air force attacked the ISIL positions in Syria and Kurdish PKK militants in Northern Iraq.
After the attack, an explosion hit the Iran-Turkey natural gas pipeline in the Eastern Turkish province of Agrı. Iran stopped gas flow to that country immediately after being informed of the incident.