Iran
Tehran's Friday prayers leader urges G5+1 to accept nuclear Iran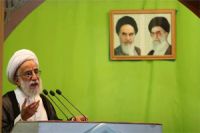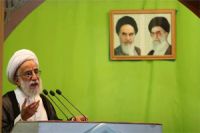 Tehran's interim Friday Prayers Leader, Ayatollah Ahmad Jannati in his second sermon urged G5+1 to accept Iran's peaceful nuclear program.
According to IRNA, welcoming the decrease of sanctions against Tehran, he noted that G5+1 has no way but to accept Iran's peaceful nuclear program.
"Despite sanctions, nation has achieved great progresses in various fields of science; massive turnout of people in the Revolution's anniversary rallies on the 22nd of the Iranian calendar month of Bahman (February 10) proved that nation is committed to continue support for its revolutionary ideals, including its right for having peaceful nuclear energy."
Meanwhile, Ayatollah Jannati pointed to the everyday murder of Shiite people in Pakistan by the hands of extremists, asserting that US agents provoke such attacks in order to spread division among Muslim Ummah.
Pakistani Shiites have come under increasing attacks in recent months. In a recent case, over 45 Shiites were killed in a terrorist attack on the Shiite Community in Karachi earlier this month.
Pointing to the upcoming 2013 presidential election in Iran, Tehran's Friday prayers leader said that Iranian elections during the past three decades have been one of the most free and fair elections in the world.