Syria
Tens of ISIL Terrorists Killed in Syrian Army Counter-Attack in Southern Aleppo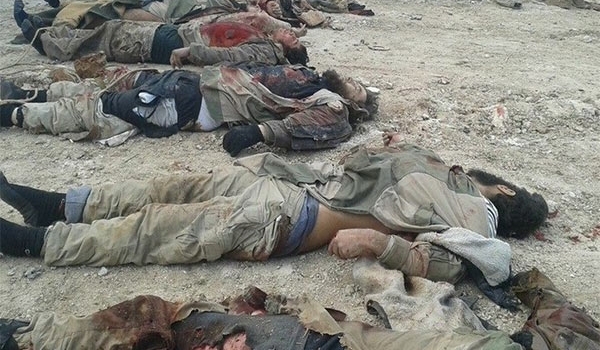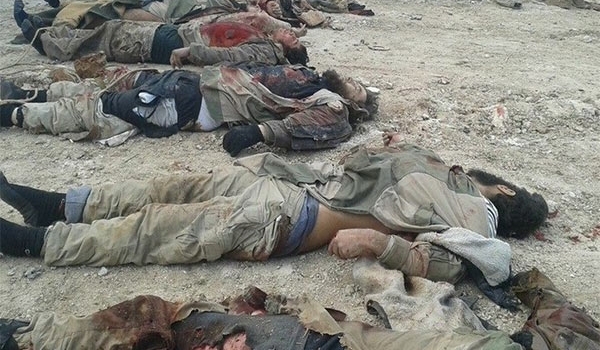 The Syrian army and popular forces killed tens of Takfiri terrorists in a counter-offensive on the ISIL on Ithrya-Khanaser road.
The army's counter-offensive came after the ISIL tried to attack the army units' military positions along Ithrya-Khanaser road.
Heavy clashes are still underway in the surrounding areas of Khanaser town.
According to field sources, over 100 terrorists have been killed in the fierce clashes with the Syrian army and popular forces today.
In Southeast Aleppo, reports said earlier today that the ISIL militants left behind scores of their dead and wounded members and fled their strongholds near two key heights under the heavy offensives of the Syrian army and popular forces.
The Syrian army and the National Defense Forces continued to push the ISIL terrorists back from their positions along the main supplying route of the government forces from Hama to Aleppo near the strategic town of Khanaser and imposed full control over the Tal Syriatel and Talal al-Sharghiyeh and their surroundings.
The government forces have started to fortify the newly-gained lands.
The Syrian army and its allies have repelled several ISIL attacks to break through the government forces' lines of defense near Khanaser.
Earlier reports said that the Syrian army troops and their popular allies have prevailed over the ISIL militants' defense lines in a town on one of the main supply lines of government forces.
The Syrian army, Liwa al-Quds (Jerusalem Brigade), the National Defense Forces, and the Cheetah Forces "Team 3" entered the important city of Khanaser after losing it to the ISIL during clashes yesterday morning.
The Syrian government forces broke through the ISIL defenses at the Southern side of Khanaser this morning and secured the perimeter before they entered town.
In addition to their advance at Khanaser, the army troops and their allies also reentered the village of Shalaleh al-Kabireh after a violent battle with the ISIL terrorists that captured this site during their powerful assault yesterday; this village is located to the South of the recently captured town of Rasm al-Nafal.
If the Tiger Forces and their allies recapture both Khanaser and Shalaleh al-Kabireh, they will be only a 4 villages away from clearing the Khanaser-Aleppo Road.