Middle East
Syria
Tens of Terrorists Killed in Failed Offensive on Syrian Army Positions in Hama, Lattakia
The Syrian army, supported by fighter jets, repelled the terrorists' heavy attacks on its positions in Northern Hama and Lattakia after militants set up a new operations room.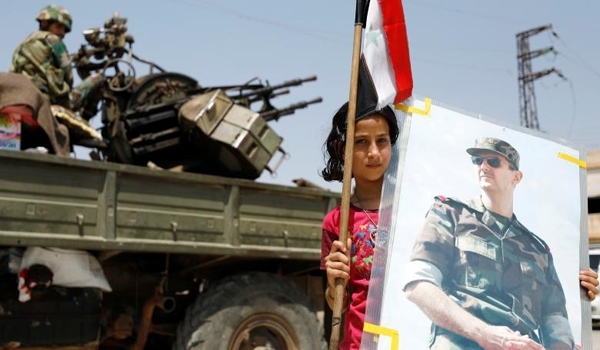 A large number of terrorists stationed in Northern Syria, including the so-called National Liberation Front, Tahrir al-Sham al-Hay'at (the Levant Liberation Board or the Al-Nusra Front) and Jeish al-Izza attacked the Syrian army positions from the town of al-Jalmeh and Kafar Hood near the town of al-Tarmiseh and Tal Othman in Northern and Northwestern Hama.
Meantime, a military source reported that the Syrian army troops killed at least 65 terrorists, wounded tens of others and destroyed a number of military and bomb-laden vehicles, forcing the remaining militants to withdraw during their operations in Hama on Tuesday.
Also, the Arabic-language website of Sputnik reported that the Syrian air force targeted the terrorists' positions and moves in the towns of al-Latamineh, Hasraya, Kafar Zita, al-Zakah and al-Arbaeen, smashing their supply routes from Khan Sheikhoin and Tarmala in Southern Idlib.
Meantime, reports said that the Syrian army forces have repulsed attacks by terrorists and suicide bombers of Turkistani party and Tahrir al-Sham against the strategic positions of the Syrian army in Hassan al-Ra'ei hill in Northeastern Lattakia and in support of other militants in Northern Hama, killing tens of terrorists, including foreign fighters.
The terrorist groups had earlier set up a new operations room named al-Fatah al-Mobin to confront the Syrian army.
Relevant reports said on Sunday that commanders of the terrorist groups are at odds with each other after the Syrian army could repel their heavy attacks in Northern Hama and Southern Idlib.
The Arabic-language al-Ahd news website reported that commanders of Tahrir al-Sham, Horras al-Din and Ansar al-Tawhid which are acting under the supervision of 'Va Harrez al-Mo'emenin' operations room and other terrorist groups, including the so-called Free Syrian Army (FSA), headed by Jeish al-Izza, acting under the command of the joint operations room of all militant groups, blame each other for the failure of offensives on Syrian army positions in Northern Hama, Southern Idlib and Northern Lattakia.
It added that the terrorist groups accuse each other of dragging a feet in opening more fronts for clashes to decrease pressure in Hama and Idlib fronts or joining the joint operations room among all terrorist groups.
Meantime, Syria's Arabic-language al-Watan newspaper reported that the Syrian army forces on Saturday inflicted heavy defeat on Tahrir al-Sham and other terrorist groups in the strategic towns of Tal Malah and al-Jabin in Northern Hama with the aim of establishment of security in the strategic Mahradeh-al-Saqilbiyeh road.
The Syrian army forces also targeted the terrorists' supply lines and moves in the towns of al-Latamineh, Kafar Zita, Ahsam, Haish, Deir Sonbol and Tarmila in Northern Hama and Southern Idlib in response to their rocket attacks against the towns of Sheikh Hadid, al-Jamlah and al-Aziziyeh in Northern Hama, inflicting heavy damages and losses on the militants.