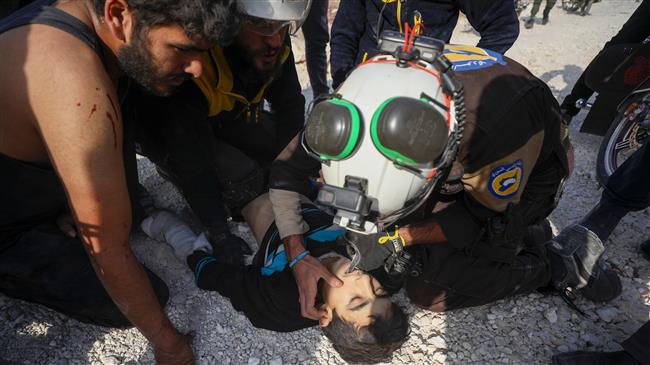 The Syrian army says foreign-sponsored terrorist groups are making preparations to stage false-flag chemical attacks in the northwestern provinces of Idlib and Aleppo to implicate government troops and invent pretexts for possible foreign acts of aggression against the Arab country.
Syria's official news agency SANA, citing a statement by a military source on Monday, said these "terrorist organizations" resort to false-flag attacks whenever the Syrian army has the upper hand in anti-terror battles and "achieves progress" in crushing the terror outfits.
The statement stressed that these "Turkish-backed" terror groups are now in preparation for conducting false-flag chemical attacks in Idlib and Aleppo to put the blame on Syrian troops in an attempt to block their operations in these two regions through possible foreign military intervention.
"These tricks the terrorists play… have become obsolete and no longer deceive anyone and will not help achieve what the terrorist organizations and their supporters want," it added.
"The international community now knows that the Syrian army never used chemical munitions and that it no longer possesses such weapons," it noted.
In November 2019, Russia warned that members of the Takfiri Hayat Tahrir al-Sham (HTS) terrorist outfit together with the Western-backed so-called civil defense group White Helmets were planning to carry out chemical attacks across Syria in a bid to frame Syrian government forces.