Palestine
Terror regime israhell forces martyr 10 more Palestinians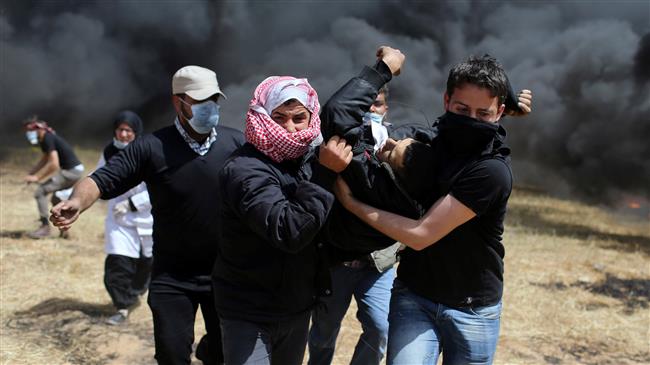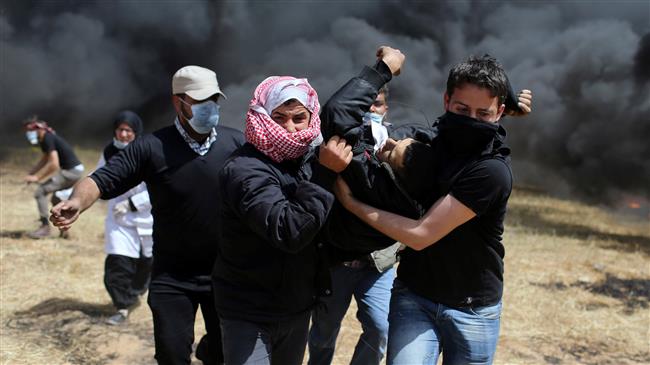 Zionist forces have shot dead 10 Palestinians, including a child, at the Gaza border, raising the death toll to over two dozen in Israel's brutal crackdown on the week-long protests demanding the right to return to homeland.
Gaza's Health Ministry said 38-year-old Ussama Khamis Qadih was killed east of Khan Younis in the southern Gaza Strip on Friday.
The ministry also said Magdy Ramadan Shabat as well as a 16-year-old boy, Hussein Madi, were shot dead east of Gaza City. It also identified the other victim as Sedqi Faraj Abu Etewi, 45, and 20-year-old Ebrahim el-Er. The identities of the other Palestinians shot dead were not immediately available.
About 1,100 Palestinians were also injured in clashes on Friday.
The Palestinian Journalists' Syndicate said six Palestinian journalists were shot and injured despite wearing clothes clearly identifying themselves as journalists, adding it held Israel "fully accountable for this crime".
Clashes broke out between Palestinians and Israeli troops near Gaza's fence as large groups of protesters gathered for a new round of protests as part of a six-week rally dubbed the "Great March of Return," which began last Friday.
Thousands of protesters gathered in locations near the fence east of Khan Yunis, in the south of the blockaded Palestinian enclave, and east of Gaza City.
Last Friday's protests turned violent when Israeli military forces used lethal force to disperse the protesters, shooting and killing 20 unarmed demonstrators. One of the casualties succumbed to his wounds earlier today.
Thousands of Palestinians have stayed in tent encampments near the fence over the past week.
During the latest protests today, Palestinians set fire to mounds of tires in what they want to be a smokescreen from Israeli snipers.
Israel has deployed tanks, armored vehicles and special forces near the fence and given shoot-to-kill permission to its troops.
Israeli forces reportedly took up positions across a ridge on the other side of the fence and set up a giant fan about two meters high in an apparent bid to push away the smoke.
The new casualties came despite a UN call for restraint.
Earlier on Friday, the United Nations human rights office called on Israel to refrain from using excessive force against the demonstrators.
UN human rights spokeswoman Elizabeth Throssell said that guns should only be used as a last resort, warning that unjustified recourse to the use of firearms is a breach of the Fourth Geneva Convention and may amount to willful killing of civilians.
In the Gaza Strip, almost 1.3 million of the small territory's two million inhabitants are refugees demanding their right to return to their pre-1948 homes.
The protests are slated to continue until May 15, which marks the 70th anniversary of the Palestinian Nakba (Catastrophe), in which more than 750,000 Palestinians were forcibly displaced by Israeli forces in 1948 Arab-Israeli war.