Human Rights
Middle East
Syria
Terrorism sponsors not politically, morally entitled to issue anti-Syria rights resolutions: Envoy
Syria's permanent representative to Vienna-based international organizations has strongly condemned the passage of a Britain-drafted resolution against his country at the Human Rights Council, saying sponsors of terrorism are neither politically nor morally justified to introduce such measures.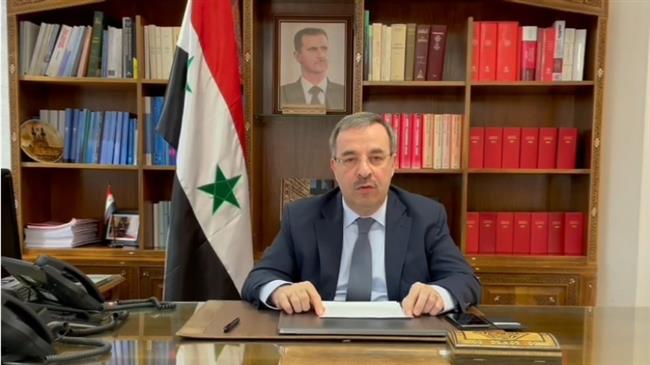 Hussam al-Din Ala said on Wednesday that those who sponsor terrorism, occupy parts of Syrian territories and impose unilateral sanctions that amount to crimes against humanity, lack political and moral credibility to propose resolutions about the situation of human rights in Syria.
"Britain, the main architect of the draft resolution, is primarily involved in fabricating allegations and conducting political as well as propaganda campaigns against the Syrian government. It supports the so-called Commission of Inquiry on the Syrian Arab Republic, whose reports have shed light on London's role in exacerbating the Syria crisis," the Syrian diplomat said.
Ala further said the recent resolution against Syria runs counter to Britain's claims about its support for a political settlement of the Syria conflict and an end to sufferings of the Yemeni nation, and is in opposition to its purported respect for Syria's sovereignty and territorial integrity.
He went on to say that the recent anti-Syria resolution points to Britain's insistence to politicize activities of the Human Rights Council and its mechanisms in violation of the UN Charter.
Syria rejects the politically-biased resolution as it lis based on fabricated lies, Ala said.
Earlier this week, the Human Rights Council adopted a resolution in which it extended the mandates of the Commission of Inquiry on the Syrian Arab Republic for a period of one year. The resolution was adopted by a vote of 27 in favor, 6 against and 14 abstentions.
The Council said the ten-year conflict in Syria has been marked by consistent patterns of gross violations and abuses of international human rights law and violations of international humanitarian law.
Syria has been gripped by foreign-backed militancy since March 2011. The Syrian government says the US, Israeli besides their regional and Western allies — including the UK — are aiding Takfiri terrorist groups wreaking havoc in the country.
Syrian government troops and their allies have managed to retake roughly 80 percent of the war-ravaged Arab country's territory from the Takfiri terrorists.
The Syrian army is fighting to drive out the remaining militants, but the presence of US and European forces in addition to Turkish troops has slowed down its advances.