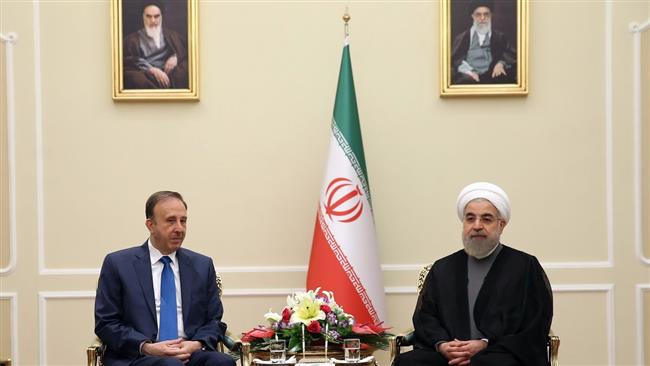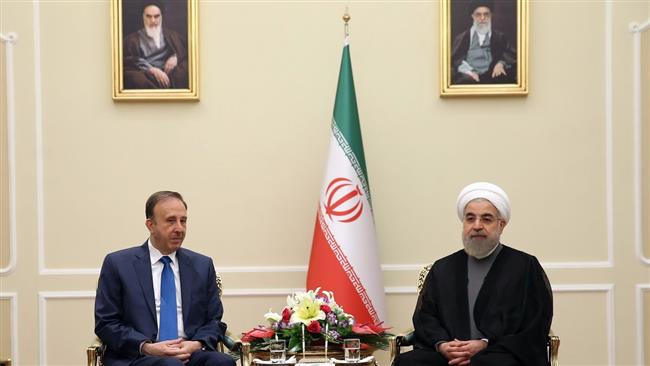 Iranian President Hassan Rouhani has reaffirmed the Islamic Republic's support for Syria in its battle against terror, stressing that certain regional supporters of terrorism will eventually see a backlash from their approach.
"Some regional countries have unfortunately made miscalculations and think that terrorist forces are always a means in their hands to achieve their goals. However, they will suffer backlash of terrorism sooner or later," Rouhani said in a meeting with Speaker of the Syrian People's Assembly Mohammad Jihad al-Laham in Tehran on Tuesday.
He also commended the resistance of the Syrian government and people in the face of terrorism over the past four years and expressed confidence that foreign countries could not impose their will on the Arab nation.
"The Syrian people have been gripped by an unwanted war by certain countries and terrorist groups, but when a nation wants, it can resist all complicated plots," the Iranian president said.
He added that the Iranian government and nation have never neglected their "moral and humanitarian duty" to support the Syrians despite the sanctions imposed on Tehran over its nuclear program.
The Syrian army and pro-government forces have been fighting foreign-backed militants since March 2011 when militants started their campaign of terror in the Arab country with the support of Western powers and their regional allies, including Saudi Arabia, Turkey and Qatar.
At least 222,000 people have been killed in Syria since the onset of the crisis.
Al-Laham, for his part, criticized the United Nations for failing to implement the Iranian president's proposal on the World Against Extremism and Violence (WAVE).
On December 18, 2014, the UN General Assembly overwhelmingly voted in favor of President Rouhani's WAVE proposal, which calls on all nations to denounce violence and extremism.
The Syrian speaker further said that those countries which support terrorists in Syria are implementing plots hatched by the US and the West, adding that such behavior would serve the Israeli regime's interests.
He also expressed hope the Israeli plots against Syria would be thwarted with the support of regional nations.