Palestine
Terrorist israeli Settlers Burn A Mosque Near Ramallah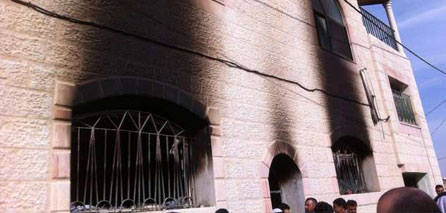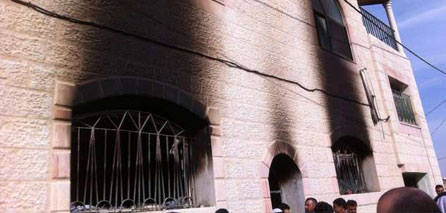 A number of fanatic Israeli settlers infiltrated, on Wednesday at dawn, into the al-Mogheer village, near the central West Bank city of Ramallah, set its mosque on fire, and wrote racist graffiti.
Local worshipers went to the mosque for dawn prayers to find its ground floor in flames, and also found racist anti-Arab and anti-Islamic graffiti on its walls.
Palestinian Religious Endowments Minister Yusuf Adeis has said that the torching on Wednesday of a West Bank mosque by Jewish settlers was proof of "racist Israeli incitement" against Muslim and Christian houses of worship in the Palestinian territories.
"This crime constitutes blatant aggression against Muslims and Muslim sentiments," Adeis said in a statement.
He added that Jewish settlers in the West Bank had continued to violate Muslims' cultural identity.
Faraj Na'san, head of the al-Mogheer village council said the settlers repeatedly vandalized cars and buildings in the village, and partially burnt its second mosque nearly two years ago.
Al-Mogheer village is surrounded by illegal Israeli settlements, and is repeatedly attacked by fanatics Israeli settlers.