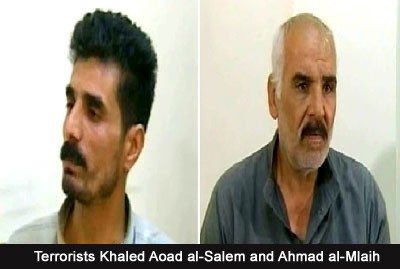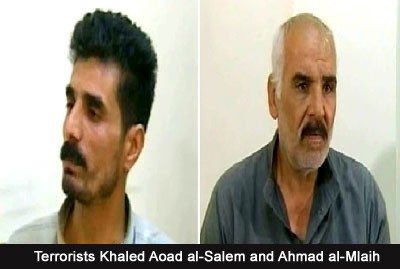 Terrorist Khaled Aoad al-Salem, who served 21 years in jail for previous arms smuggling, confessed to smuggling weapons from Aleppo to Damascus three times in two months.
Al-Salem said "While I was in prison, I met two people, Abu Hussein and Abu Zaid… When I got out, Abu Zaid phoned me asking me to provide pump-action shotguns from Aleppo, I accepted and phoned Abu Hussein who told me to come the next day and he will provide me with five shotguns."
He added that "The next day, I came to Abu Hussein and hid the weapons in my car then I went to Damascus and handed the shotguns to Abu Zaid."
"Seven days later, Abu Zaid called me and asked for seven more pump-action shotguns, which I provided," terrorist al-Salem confessed.
"After a while, Abu Zaid phoned me… he asked for 40 to 50 shotguns, I went to Abu Hussein after I rented a big car claiming that I will transport feed to Damascus," he said, adding that they hid the weapons under the feed, and that they were caught in Damascus.
Al-Salem said that he delivered the first two weapon shipments seven days apart, while the third was delivered after 20 days.
In turn, terrorist Ahmad al-Mlaih revealed that was paid to shoot at protestors in Douma to frame the military and security forces.
Al-Mlaih, a farmer who lives in Douma, said that met a man named Abu Mahrous al-Habboush about 45 days ago, with the latter offering him SYP 200,000 in exchange for shooting at protestors, and a few days later al-Habboush called him and arranged a meeting, giving him the money.
He went on to say that on the following Friday, he went to the prayers at al-Tawhid Mosque and then headed to al-Ghanam Square and hid behind a wall, and upon hearing the voices of protestors 10 minutes later he shot at them using his hunting rifle, scaring them away.
Al-Mlaih, who was arrested twice and imprisoned for two years, said that he fled the scene on his motorbikes afterwards, and on the evening of the next day after attending evening prayers in the same mosque he saw an obituary of a man from al-Sidawi family who was killed in al-Ghanam Square.