Syria
Terrorists Fail to Prevail over Syrian Army Positions in Hama Province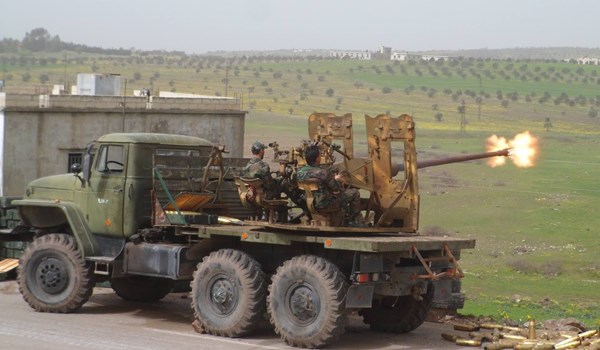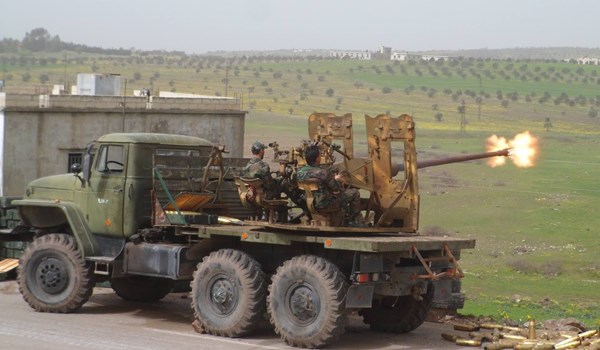 The Syrian Army units engaged in fierce clashes with Tahrir al-Sham Hay'at (the Levant Liberation Board or the Al-Nusra Front) and managed to repel their heavy offensive in Northwestern Hama on Saturday.
Tahrir al-Sham terrorists, deployed in the villages of al-Ziyara and al-Qarqour, launched an offensive on the army in al-Mashari'a North of al-Ghaab Plain in Western Hama, but their offensive was repelled by the army soldiers.
Terrorists suffered heavy casualties in the failed attacks.
In the meantime, the army's artillery and missile units shelled heavily terrorists' positions and movements in al-Ankavi and al-Qastoun regions in al-Ghaab Plain, in the village of al-Zaiyara and in the town of Jisr al-Shughour.
The artillery and missile fire also cut off the movements between terrorists' positions in al-Latamina, al-Araba'ein and Kafr Zita in Northern Hama and in Jisr al-Shughour and Badama in Western Idlib.
On Thursday, the army troops launched heavy artillery and missile attacks against the positions and moves of the terrorist groups in the towns of al-Latamineh and Kafr Zita and the adjacent areas as well as the villages of Hasraya, al-Zakat, Ma'arkabeh, al-Sayad, Tal al-Sakhar and al-Janaberah in Northern and Northwestern Hama in response to Jeish al-Izzah terrorists' missile strikes against Zalin military base in Northwestern Hama.
During the operations, several positions of the terrorists were destroyed and a large number of militants were killed and wounded.
Meantime, the Syrian army forces intensified missile and artillery attacks against Tahrir al-Sham and other terrorist groups' positions in Tal Wasit, al-Qarqour, al-Zayareh, al-Mashik and al-Sarmaniyeh in Western Idlib as well as the triangle of Western Jisr al-Shaqour-Northeastern Lattakia-Sahl al-Iqab.
Field sources said that the terrorists have sustained heavy casualties, adding that the Syrian army attacks came in preparation for their massive military operations in Idlib province.