Human Rights
Syria
Terrorists in Syria just like their ancestors in Karbala block drinking water in Aleppo, people use waste water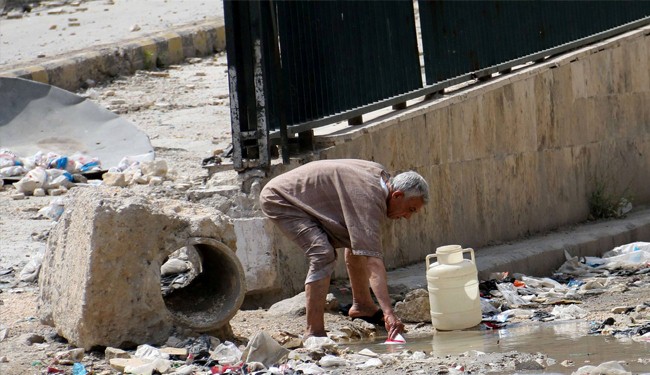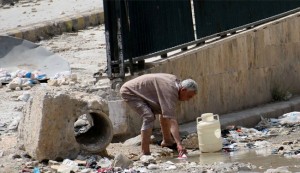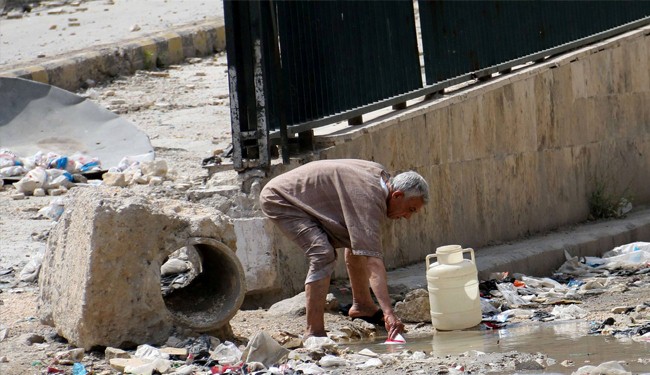 Thirst is hitting Aleppo, and people are steps away from a disastrous condition after city's supply of potable water was completely cut off by foreign-backed rebels.
Aleppo has not suffered from a water shortage since 1776, when residents sang the popular Aleppan song "Quench the Thirsty."
"The situation signals a humanitarian and health disaster but we are doing what we can to avert this risk," a source in the Syrian Red Crescent tells Al-Akhbar.
The plan of the Red Crescent and government agencies succeeded in providing some drinking water from wells, but continuing to do that, even for a short time, is unhealthy for residents.
"Home use is vital and a lot of homes no longer have water for safe consumption. Many of the trucks selling water are trucks that collect wastewater from homes, which is polluted and dangerous," adds the source.
A source at the Aleppo Water Department explained to Al-Akhbar that "the terrorists control the pumping station in the Suleiman al-Halabi region and they do not respect any agreements with the Red Crescent. Everyday, the station needs two diesel tanks [to power it] because the power line that feeds it is out of service."
He pointed out that "the Sharia Authority controls the station and there are major disagreements between its leaders and we as an institution have no direct relationship with them except through the Red Crescent, especially since they killed a number of our staff."
The source pointed to the "danger of insurgents pumping water only to the neighborhoods that they control as it might lead to the collapse of the integrated water system and the difficulty of maintaining it. This would deprive two million citizens of water, including people living in areas under the terrorists' control."
For a week now, queues of women and children have become ubiquitous in front of mosque fountains and city wells in order to fill small containers such as cooking pots, teapots and plastic bottles as well as small barrels.
A number of officials and those working with them on the other hand, get trucks to pump water into their house tanks amid the anger of the people.
The queues are not just in poor neighborhoods. All the city's neighborhoods are suffering from a water shortage and the city is full of displaced people.
Mosque wells and the wells operated by the Red Crescent are working 24 hours a day.
The city council did not hesitate to provide residents with drinking water randomly in different streets of the city.
Syria sank into war in March 2011 when pro-reform protests turned into a massive insurgency following the intervention of Western and regional states.
The unrest, which took in terrorist groups from across Europe, the Middle East and North Africa, has transpired as one of the bloodiest conflicts in recent history.