Syria
Terrorist ISIL Withdraws from Hama Province towards Raqqa, Deir Ezzur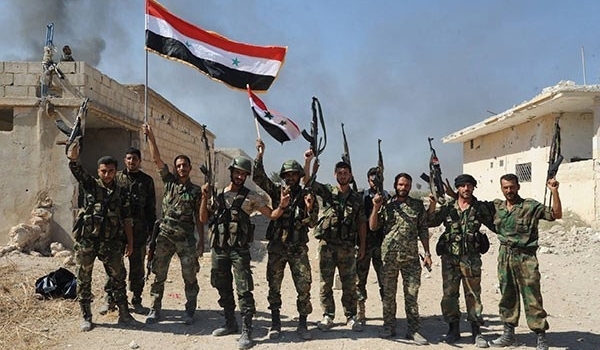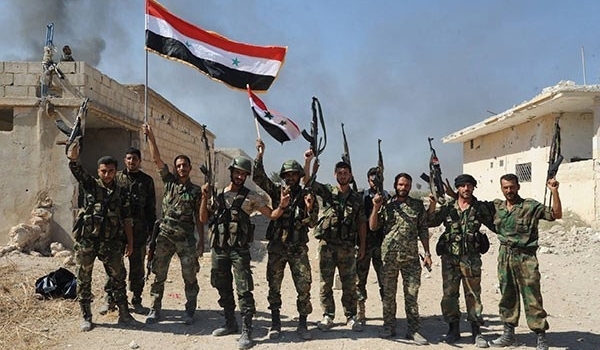 The Syrian forces pushed the ISIL Takfiri terrorists back from their positions in the countryside of Hama province.
The ISIL-affiliated grouplet called Jaish al-Khalafa withdrew its forces and heavy weapons from Hama province towards Raqqa and Deir Ezzur after facing the Syrian army's fierce attacks.
The withdrawal happened after heavy clashes between the Syrian army forces and the terrorists near Eastern Barri and Ismailiya villages.
The Syrian air force destroyed the terrorists' hideouts in the countryside of Hama, killing large number of the Takfiri militants on Wednesday.
The Syrian fighter jets razed the terrorists' positions in the towns of Tawal al-Dabaghin and al-Jubaysat in Hama countryside.
Tens of terrorists were killed and dozens more were injured in the Syrian air force raids on their positions.
The Syrian army repelled a terrorists' attack on a military post in Hama province, killing at least 30 militants, reports said Thursday.
The army clashed with terrorists who attacked a military post in al-Hamra village in the Northeastern countryside of Hama on Wednesday night, killing at least 30 Takfiri militants, most of them foreign militants.
The army destroyed two tanks, a 23 mm cannon, an anti-tank machinegun and 6 vehicles of the terrorists.
Meanwhile, the army destroyed a bulldozer of the terrorists near al-Latamneh town in the Northern countryside of Hama.
The Syrian army, backed by National Defense Forces, also repelled an attack by terrorists of al-Nusra Front on a strategic town in Hama province, sources said Thursday.
The Syrian forces repelled al-Nusra attack on the strategic town of al-Si'in in Hama, and pushed the Takfiri terrorists back from the region.
On Monday, the Syrian warplanes destroyed terrorists' hideouts in Qasre bin Wardan village, Rasm al-Tina and Kafre Zeita in Hama countryside.
Dozens of the foreign-backed Takfiri militants were killed in Syrian military operations and airstrikes in Hama countryside.
Meanwhile, the army destroyed two vehicles equipped with anti-aircraft machineguns, and killed scores of terrorists in Tal al-Fark in the Northwestern countryside of Hama.
Also on Monday, the Syrian army, in heavy clashes with the militants of al-Nusra Front, pushed them back from the surroundings of Tal Zarjam in Hama province, local officials announced.
The sources said that the al-Qaeda-affiliated Nusra militants' military equipment, armored vehicles were destroyed in the army troops' operations.