Syria
Terrorists' mortar attack kills 5 Syrian civilians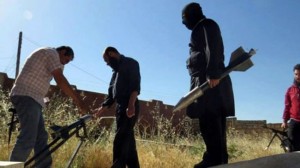 In Syria, at least five civilians have been killed and tens of others wounded in a mortar attack by foreign-backed militants in the country's Aleppo city.
According to reports, a market in Aleppo's al-Midan district was targeted in the attack, which also left at least 40 people wounded in the northern city.
On May 19, mortar shells fired by militants fighting against the Syrian government hit residential areas in the al-Qas'aa neighborhood of the capital, Damascus, leaving at least 13 citizens injured.
Cities and towns across Syria have frequently come under bomb attacks as well as mortar and rocket fire by the foreign-backed militants since the crisis erupted in the country.
Syria has been gripped by deadly violence since March 2011. Over 160,000 people have reportedly been killed and millions displaced due to the violence fueled by the Western-backed militants.
According to reports, Western powers and their regional allies – especially Qatar, Saudi Arabia and Turkey – are supporting the militants operating inside Syria.