Syria
Terrorists to quit another enclave in Syria's Ghouta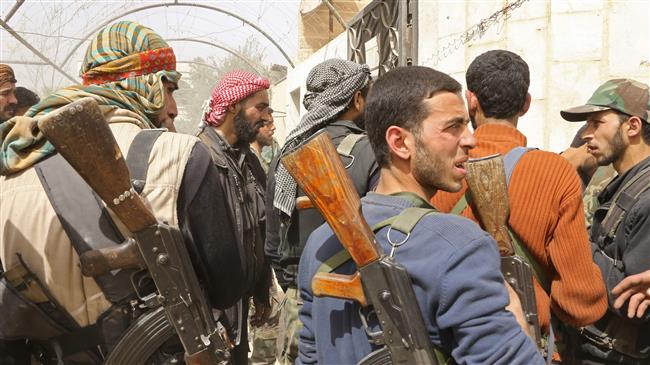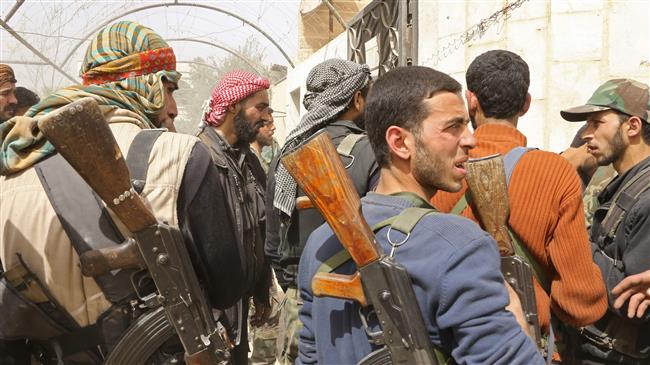 Another militant group in Syria's Eastern Ghouta has agreed to leave the region as the government forces advance against militants in their last major stronghold near the capital Damascus.
Syrian state media reported on Friday that the government and Faylaq al-Rahman Takfiri militant group reached an evacuation deal that allows "the transfer of nearly 7,000 people, fighters and their families" from an area in the south of Eastern Ghouta to the northwestern Idlib province.
State television said the area includes the towns of Zamalka, Arbin and Ein Terma, adding that evacuations were due to begin on Saturday at 9:00 am (0700 GMT).
The agreement comes after Faylaq al-Rahman agreed to a ceasefire late Thursday.
Over the past few weeks, Syria and Russia have cornered foreign-backed militants in Eastern Ghouta, a suburb of Damascus, as part of their campaign to liberate civilians holed up there and end militant attacks from the suburb on the capital.
The month-long assault left the once sprawling militant enclave splintered into three shrinking pockets each held by a separate militant group.
On Thursday, the government and the Ahrar al-Sham militant group reached the first evacuation deal in Eastern Ghouta, and buses started transporting 1,500 militants and 6,000 of their family members from the town of Harasta to the militant-held areas in Idlib.
Negotiations are also under way for the main city of Douma, the last remaining militant pocket in Eastern Ghouta.
Eastern Ghouta fell to militants in 2012, months after Syria plunged into crisis, and has since served as a launch pad for fatal mortar attacks against residents and infrastructure in the capital. The region is controlled by a collection of militant groups, most notably the Takfiri terror groups of Jaish al-Islam and Jabhat Fateh al-Sham, commonly known as al-Nusra Front.
On March 16, the Syrian army said its forces had regained the control of 70 percent of militant-held areas in Eastern Ghouta.