Asia-Pacific
Thai protesters rally for caretaker government ouster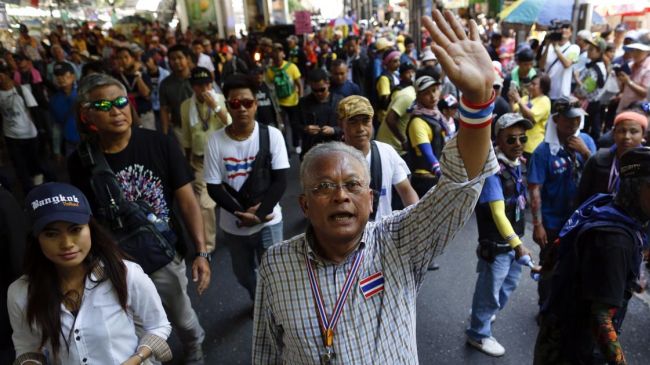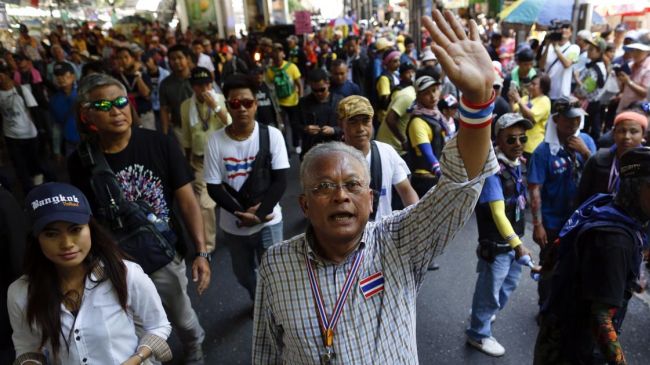 Thai anti-government protesters have taken to the streets in the capital, Bangkok, in an effort to bring down the caretaker government after the ouster of Prime Minister Yingluck Shinawatra.
Several thousand demonstrators left their main encampment in a city park on Friday, as they want the government out, the July 20 vote postponed and reforms made in order to end the influence of Yingluck's brother, former premier Thaksin Shinawatra.
"We will regain our sovereign power and set up a people's government and a people's legislative council," protest leader Suthep Thaugsuban said before leading a march to Government House.
"We will march on all television stations… we ask city residents to surround police cars and police headquarters to stop them from hurting our people," he added.
Meanwhile, supporters of the ousted premier, known as the Red Shirts, are set to rally Saturday in a Bangkok suburb.
On Wednesday, the Constitutional Court removed Yingluck from office for abusing her power. The removal was then swiftly followed by the ruling party's appointment of the country's Commerce Minister Niwattumrong Boonsongpaisan as her replacement.
Yingluck was also indicted by the country's anti-graft agency for negligence on Thursday in connection with a controversial rice-subsidy scheme under which the state bought farmers' crops for the past two years at prices up to 50 percent higher than world prices.
The scheme was aimed at helping Yingluck's supporters; however, the government could not sell much of the rice it quickly stockpiled and was unable to pay many farmers.
If found guilty of negligence by the Senate, Yingluck could be banned from politics for five years.
The anti-government demonstrations in Thailand erupted after the government proposed an amnesty bill last October that could have pardoned Thaksin Shinawatra and could have set the scene for his return to Thailand. Thaksin, who was toppled in a coup in 2006, has been in self-exile since 2008 to avoid a two-year prison sentence.