World News
Thai protesters seize several more ministries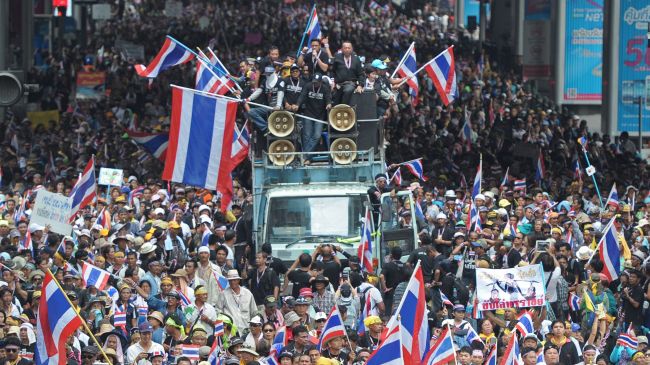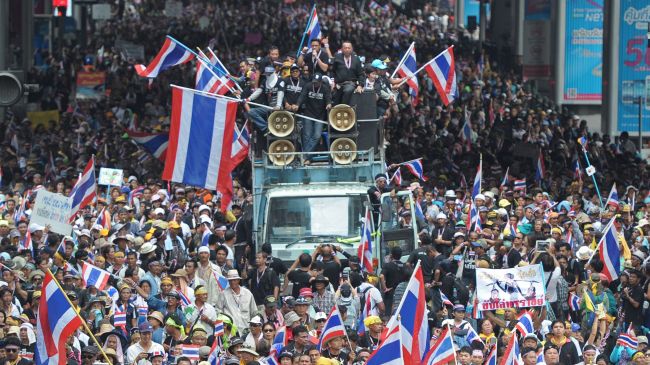 Demonstrators in Thailand have seized several more government ministries as part of their efforts to topple Prime Minister Yingluck Shinawatras's government, Thai officials say.
Waving Thai flags and blowing whistles, tens of thousands of protesters marched to the interior ministry on Tuesday. The building was surrounded by some hundred security personnel.
The protesters gave officials an ultimatum to leave the building within one hour, warning to "close the ministry."
They also occupied the agriculture, transport, as well as sports and tourism ministries on the same day.
"We have to leave because they (the protesters) will cut the utilities," said Somsak Pureesrisak, tourism and sports minister.
On Monday, the protesters took control of the foreign and finance ministries.
The nationwide demonstrations come as Shinawatra has faced a vote of no-confidence in the parliament.
The Thai prime minister declared a special emergency law for Bangkok on Monday after riot police and anti-government protesters scuffled in the capital city.
The public protests erupted last month over a government-backed bill that could have granted amnesty to the current premier's brother, ousted Prime Minister Thaksin Shinawat.
The government has been forced to abandon the amnesty effort. Rallies, however, have continued, with the protesters claiming that Prime Minister Shinawatra's government is controlled by her older brother.
The former Thai premier was overthrown following a military coup in 2006, during a battle for power between his supporters and opponents. Since then, Thaksin has lived in self-imposed exile to avoid a prison sentence.