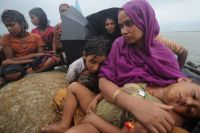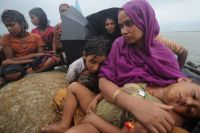 Thailand has deported some 1,300 Rohingya Muslims who had escaped sectarian violence in Myanmar, despite warnings by human rights groups not to send them back to their homeland.
According to Press TV, Thai authorities said on Thursday that Rohingya refugees in the province of Ranong had been deported in groups.
The deportation started in September and ended in November last year.
Human rights activists had warned Thailand against returning the Rohingyas back to Myanmar, where they face persecution, travel restrictions, forced labor, and limited access to healthcare and education.
They say many members of Myanmar's Muslim community, who fled violence in the country, arrived on boats to Thailand only to be locked up in overcrowded immigration prisons.
"The deportation of Rohingya is a blatant violation of international laws that prohibit sending back refugees and asylum-seekers to a place where they can face danger and persecution," said Sunai Phasuk, a senior researcher with New York-based Human Rights Watch said.
Sunai said the Thai Foreign Ministry was apparently not involved in the deportations. He also called on Thai authorities to inform the public about the fate of the 1,300 Rohingyas.
In December, an investigation showed that Thailand immigration officials had sold Rohingya refugees in the country to human traffickers.
Rohingya Muslims are not recognized as citizens by Myanmar's government, which labels them as "illegal" immigrants.
The minority group has faced repression since Myanmar achieved independence in 1948.