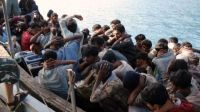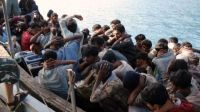 Thailand says it has intercepted a boat carrying 200 Myanmarese Rohingyas near the southwestern island of Phuket and has detained the refugees.
According to AFP, the Rohingya refugees were spotted off Racha Noi Island in Phuket's Muang district on Tuesday.
The Thai Naval Force said the refugees were provided with food and water.
On Monday, Thai National Security Council Secretary General Paradorn Pattanathabutr stated that Thailand would no longer allow Rohingya boat people fleeing ethnic violence in Myanmar to enter the country.
AFP quoted Pattanathabutr as saying "The Thai navy from now on will be stricter with them and will no longer allow them to land."
In recent months, a large number of Rohingya Muslim refugees have fled to Thailand.
Some 800,000 Rohingyas are deprived of citizenship rights due to the policy of discrimination that has denied them the right of citizenship and made them vulnerable to acts of violence and persecution, expulsion, and displacement.
The Myanmar government has so far refused to extricate the stateless Rohingyas in the western state of Rakhine from their citizenship limbo, despite international pressure to give them a legal status.
Rohingya Muslims have faced torture, neglect, and repression in Myanmar for many years.