Asia-Pacific
Thailand junta releases Red Shirt protest leaders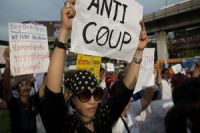 Thailand's ruling military junta has released leaders of the country's Red Shirt movement allied to the recently ousted government of Prime Minister, Yingluck Shinawatra.
According to the reports, the Red Shirt leaders were released on Wednesday, after being held for a week without charge.
Before their release, the Red Shirt members reportedly signed an agreement, vowing to end their political activities.
The movement's head, Jatuporn Prompan, said, "What we have been most concerned about is that the losses (of life) in 2010 should not happen again in 2014 — we should learn the lessons" of the past.
This is while conflicting reports suggest that the social network, Facebook, has been blocked in the country. The military, however, has denied the reports.