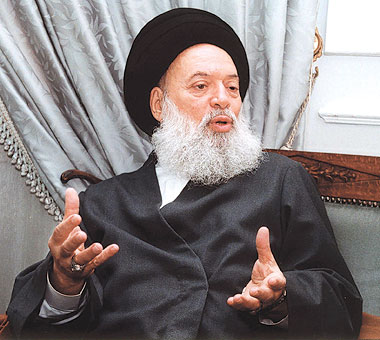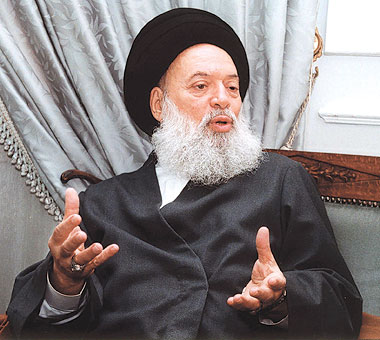 The medical team that is in charge of the treatment of His Eminence, the Religious Authority, Sayyed Muhammad Hussein Fadlullah, is still exerting its efforts to stop the acute internal hemorrhage that His Eminence has suffered from, as well its resulting complications, knowing that his condition is relatively stable.
In the meantime, several figures flowed to the hospital to check on his health, headed by the Minister, Dr. Adnan As-Sayyed Hussein, representing Michelle Suleiman, the President of the Lebanese Republic, as well as Hezbollah's Deputy Secretary-General, Sheikh Naim Kassem, MP Ali Hassan Khalil, representing the Parliament Speaker, Nabih Berri, and a delegation from the Loyalty to Resistance Bloc, presided by the Head of the Bloc, MP Hajj Muhammad Raad and Minister Muhammad Fneish. Moreover, other figures visited the hospital, including the Publisher of As-Safir newspaper, Talal Salman, the Head of Amel Association, Dr. Kamel Muhanna, the Head of the Military Court, Brigadier-general Nizar Khalil, and other political, social, religious and military figures, in addition to popular delegations that filled the halls of the hospital.
On another level, several calls to check on his health were received from the Mufti of the Lebanese Republic, Sheikh Dr. Muhammad Rashid Qabbani, the former Prime Minister, Fouad Seniora, the Lebanese Minister of Information, Tarik Metri, Secretary-General of the Arab League, Amr Moussa, the Syrian Ambassador to Lebanon, Ali Abdul-Karim Ali, the Egyptian Ambassador, Ahmad Al-Bidewi, the Head of the Supreme Iraqi Islamic Council, Sayyed Ammar Al-Hakim, the Representative of the Iraqi Ministry of Culture, Abu Midyan Al-Moussawi, the Secretary of the Democratic Renewal Movement, Dr. Antoine Haddad.