Afghanistan
Iran
The Supreme Leader Blasts Arrogant Powers for Increasing Drug Addiction in World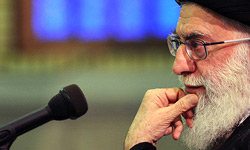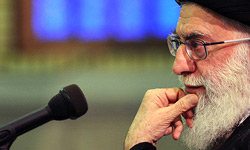 The Leader of Islamic Ummah and Oppressed People Imam Sayyed Ali Khamenei lambasted the arrogant powers for their attempts to increase drug addiction in different world countries.
"The policymakers of the arrogant powers do behind-the-stage planning to promote drug addiction and licentiousness and weaken moral foundations," The Leader of Islamic Ummah and Oppressed People Imam Sayyed Ali Khamenei said, addressing cadets of the Law Enforcement Police on Tuesday.
"One of the methods used by the arrogant powers to confront the independent nations is creating social insecurity and also moral and psychological insecurity in the society," The Leader of Islamic Ummah and Oppressed People Imam Sayyed Ali Khamenei added.
Eastern Iran borders Afghanistan, where is invaded by NATO is the world's number one opium and drug producer. After US led NATO forces invade this country, producing drug getting much more than before invasion. So Iran's geographical position has made the country a favorite transit corridor for drug traffickers who are cooparate with NATO forces intend to smuggle their cargoes from Afghanistan to drug dealers in Europe.
Iran spends billions of dollars and has lost thousands of its police troops in the war against traffickers. Owing to its rigid efforts, Iran makes 89 percent of the world's total opium seizures and has turned into the leading country in drug campaign.
Over the past five years, it has contributed more than $50 million annually to Afghan anti-narcotics efforts, but Iranian police officials maintain that drug production in Afghanistan has undergone a 40-fold increase since the US-led invasion of the country in 2001.
Late in May, UN Secretary General's Special Envoy to Afghanistan Staffan de Mistura acknowledged increased drug production in Afghanistan, and praised Iran's activities and efforts in fighting drug plantation, production and trafficking.
While Afghanistan produced only 185 tons of opium per year under the Taliban, according to the UN statistics, since the US-led invasion, drug production has surged to 3,400 tons annually. In 2007, the opium trade reached an estimated all-time production high of 8,200 tons.
Afghan and Western officials blame Washington and NATO for the change, saying that allies have "overlooked" the drug problem since invading the country 10 years ago.