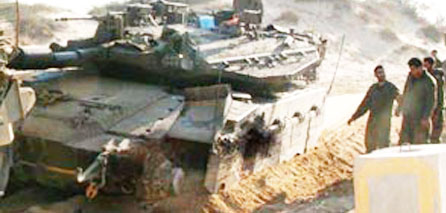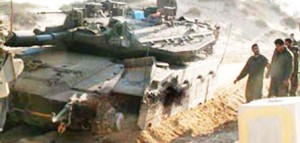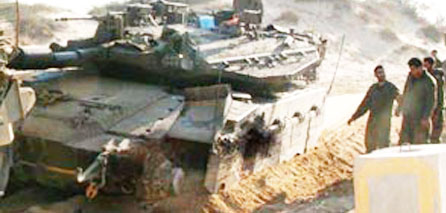 Three years after the captivity of the Israeli soldier Gilad Shalit, killing two of his colleagues inside a tank in a military base near to Gaza and the killing of another soldier in the same tank during the Zionist war on Gaza, the Zionist army decided to get this tank out of service.
This famous event took place in 25th of January 2006, when an Israeli militant force was attacked near to Kerem Shalom on the border with Gaza Strip which caused of killing the Lieutenant Hnn pools, and First Lieutenant Fibl Slutzker, capture of Corporal Gilad Shalit who taken to the Gaza Strip.
The tank Seaman "3" they were inside was disrupted by detonation by the attacking group, and then stopped for some time been repaired and then returned to service in the armored vehicle battalion 71 in which Gilad Shalit served before, after two and half years the tank returned back to serve in Gaza.
At the height of fighting in the Gaza Strip during the Israeli invasion in the January 8, 2008 killed Lt. Amit Robenon 20 years in the same tank by Palestinian sniper when he got out of his tank.
After this operation, the tank named as "Unlucky tank", so that the armored division decided to get it out of service which is currently left in desert for training purposes.
Following one of the soldiers serving in the battalion 71 on that by saying: "It is very clear that it is unlucky tank, and it is good for being out of service, this conclusion by others came out as a result of connecting the unlucky events to each other.