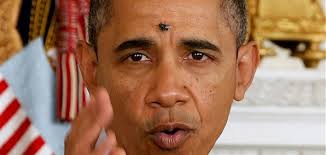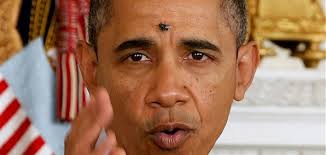 US President Barack Obama says that the Russian plane that crashed last weekend in Egypt's Sinai Peninsula was possibly brought down by a bomb.
Obama made the stunning remarks in an interview with Seattle radio station KIRO on Thursday night, a day after CNN reported that the Daesh (ISIL) terrorist group or its affiliates planted a bomb on the Airbus A321-200 that broke up in midair and crashed on Saturday, killing all 224 people on board.
US intelligence analysis suggests that the crash was almost certainly caused by a bomb planted on the aircraft by terrorists, several US officials told CNN on Wednesday.
"Whenever you've got a plane crash, first of all you've got the tragedy, you've got making sure there's an investigation on site. I think there is a possibility that there was a bomb on board. And we are taking that very seriously,"  Obama said.
But the US president said that Washington has not officially determined the cause of the crash yet.
"We are going to spend a lot of time making sure our own investigators and our own intelligence community figures out exactly what's going on before we make any definitive pronouncements," Obama said. "But it is certainly possible that there was a bomb on board."
An investigation is underway to find out how the disaster happened; however, the airline has said that technical faults or human errors could not have caused the tragic incident.
An Egyptian militant group affiliated with Daesh terrorists said on Saturday it brought down the plane "in response to Russian airstrikes" in Syria. But Russian officials say it's too early to tell what caused the crash.
On September 30, Russia began its military campaign against militants in Syria. Moscow has carried out scores of airstrikes, killing hundreds of terrorists.
Unnamed US officials have told The Associated Press that Russia has directed parts of its military campaign against US-backed militants and other extremist groups in an effort to weaken them.
They say the CIA-trained militants are under Russian strikes with little prospect of rescue by their American supporters.
"If ISIS [ISIL] was responsible, it may very well tie back to the attack on the CIA compound in Benghazi, which some sources have explained was about the transfer of anti-aircraft missiles" to militants fighting against the Syrian government, said James Henry Fetzer, a journalist with Veterans Truth Network and a retired professor in Madison, Wisconsin.
"We know now that they were virtually all created and funded by the United States," Fetzer told Press TV on Monday.
The terrorist attack on the US diplomatic compound in the Libyan city of Benghazi on September 11, 2012 left four US diplomats, including Ambassador Chris Stevens, dead.
According to CNN, up to 35 CIA operatives were working in Benghazi during the attack, but it has never reported how many of them died or were injured.