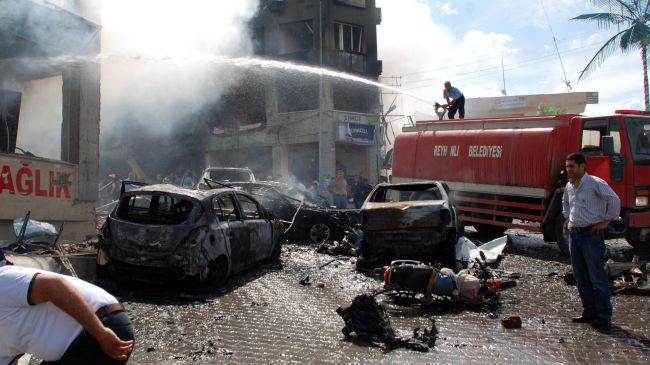 A third explosion has hit the Turkish town of Reyhanli near the border with Syria, hours after twin car bombs killed at least 42 people in the town.
The blast shook a populated area near the center of the town in the southern province of Hatay on Saturday, Turkish media said, adding the explosion was not related to the attacks that shook the city earlier in the day.
"The third explosion was a car's fuel tank. It had nothing to do with the events", Turkey's NTV channel quoted Interior Minister Muammar Guler as saying. But People say different.
Reports say that rescue teams were immediately dispatched to the area.
The third blast came after two vehicles packed with explosives detonated near Reyhanli's post office and municipality earlier in the day. More than 140 people were injured in the twin attacks.
Meanwhile, the Turkish army sent air and ground military reinforcements to the town, which is located only a few kilometers from the Syria border.
Turkish Foreign Minister Ahmet Davutoglu slammed the attacks as an act of provocation, saying Ankara would take all necessary measures to protect the country.

"There may be those who want to sabotage Turkey's peace, but we will not allow that. No one should attempt to test Turkey's power. Our security forces will take all necessary measures," said the minister who was visiting Berlin.