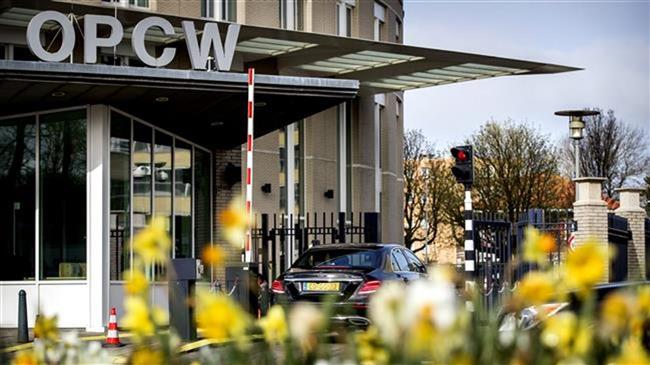 Freshly leaked information has once again revealed that the Organization for the Prohibition of Chemical Weapons (OPCW) manipulated a report on an alleged chemical attack in Syria in 2018.
A third whistle-blower, backing the complaints made previously by two former OPCW employees, said on Tuesday that the organization, tasked with investigating a suspected "chemical attack" on Syria's Douma, had excluded higher-level officials from the post-mission process, distorted key evidence, and ignored the findings.
The whistle-blower, described in Wikileaks documents as a former senior official with the OPCW, stood by the two employees and said that his time with the organization was "the most stressful and unpleasant" one in his life.
The unidentified person blamed external pressure and potential threats to their family for their failure to speak out about the corruption of the Douma investigation.
The former OPCW senior official went on to denounce the removal of members of the original fact-finding team to Syria "from the decision making process and management of the most critical operations."
Ian Henderson, one of the two former OPCW employees, recently addressed a special session of the United Nations Security Council with his concerns about the Douma mission.
Ex-inspector tells UN how OPCW whitewashed findings on Douma gas attackA former OPCW inspector has accused the organization's management of ignoring and suppressing findings of the team that was deployed to investigate an alleged chemical attack in Syria's Douma.
Henderson told members of the UN Security Council that the OPCW omitted key findings of its own inspections team which would have cast serious doubt on whether a chemical attack took place at all.
Since November 2019, the whistle-blower WikiLeaks website has released multiple OPCW documents and internal emails that not only support Henderson's claims but also deal with discrepancies in levels of chlorine found in the area of the alleged attack.
The alleged chemical "attack" on Douma occurred in April 2018 at a time when the Syrian army was about to win the battle against foreign-backed militants there.
The US and its allies blamed Damascus for the attack, an allegation strongly rejected by the Syrian government, saying the foreign-backed militants with the Western-supported White Helmets have staged the chemical attack in an attempt to frame Damascus.
However, the US, Britain and France launched a coordinated missile strike against sites and research facilities near Damascus and Homs a week later, without waiting for proof that chemical weapons had been used.
Syria surrendered its entire chemical stockpile in 2013 to a mission led by the OPCW and the United Nations.
Several reports have previously suggested the use of chlorine against civilians by anti-Damascus militants.