Palestine
Thousands march in funeral of Palestinian killed in al-Khalil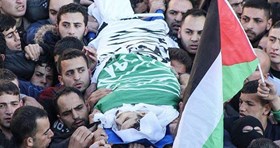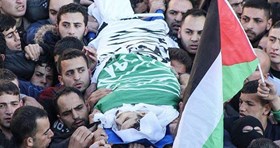 Thousands of Palestinians on Friday participated in the funeral of Uday Ershid, 22, who was earlier shot dead by Israeli occupation forces during clashes in al-Khalil.
The funeral set off from Ras Jura Governmental Hospital, where he was proclaimed dead. The procession then carried Uday's body to his family home for relatives to bid him farewell, before proceeding to al-Shuhada cemetery in the city.
The mourners raised Palestinian flags and chanted slogans, calling for revenge and for continuing Jerusalem Intifada.
Uday's sister, Dania, was shot and killed by Israeli forces on Oct. 25 for allegedly carrying out a stabbing attack.
Earlier Friday, an elderly man was shot and killed for allegedly ramming his car into a group of soldiers stationed at Halhul checkpoint.
The new victims brought the number of slain Palestinians since the outbreak of Jerusalem Intifada to 110 including 25 children.