Palestine
Thousands march in funeral of two Qassam fighters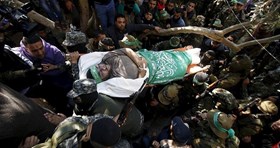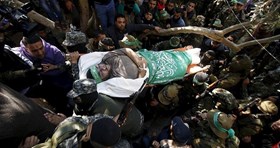 Thousands of mourners participated Wednesday afternoon in the funeral of two of the Qassam fighters who died in a tunnel collapse in the blockaded Gaza Strip on Tuesday.
Deputy Head of Hamas Movement Ismail Haneyya, Deputy Speaker of the Palestinian Legislative Council Ahmed Bahar, and the prominent leader in the Movement Mahmoud Zahhar were among the mourners. A number of Palestinian MPs and members of Qassam Brigades also took part in the funeral. Slogans in support of resistance were chanted during the funeral procession.
On Wednesday morning, the Movement issued a statement declaring that 23-year-old Ahmad Heidar al-Zahhar and 39-year-old Fuad Ashour Abu Ateiwi died in a tunnel collapse as they were digging in preparation for any future Israeli aggression on the Strip. Seven resistance fighters died last week in a similar accident, after a tunnel they were reconstructing fell down. Over 250,000 Palestinians took part in the casualties' funeral procession, in what observers dubbed a sign of Palestinians' support for armed resistance against the Israeli occupation.