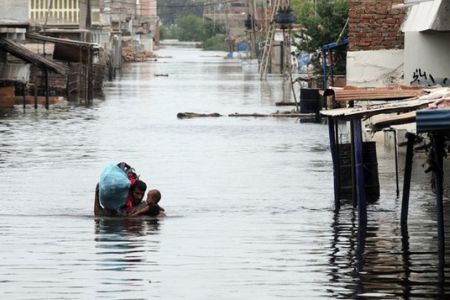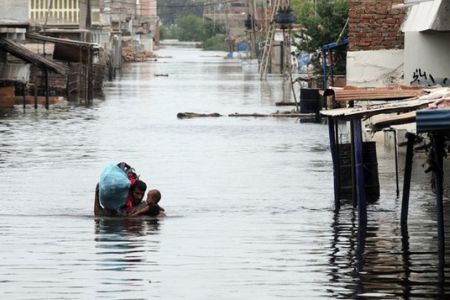 Officials in Pakistan have ordered thousands of residents in a number of towns in southern parts of the country to evacuate as floodwaters submerge new areas.
Floodwaters are currently threatening the Pakistani towns of Jati and Choohar Jamali, forcing more than 100,000 people to flee their homes.
"We are making efforts to save the two towns which have a combined population of more than 100, 000," AFP quoted senior regional official Hadi Bakhsh Kalhoro as saying.
Meanwhile, emergency workers managed to contain the swollen Indus River in the nearby city of Thatta.
"Thatta city has been declared safe after a breach in the river caused by floods at nearby Faqir Jo Goth village was fully plugged," Kalhoro added.
Floodwaters from the Indus River submerged some 350 villages over the past three days, forcing one million people to evacuate the area before rising waters swept across several towns in the south.
Torrential rains triggered massive floods earlier this month and moved steadily from northern parts of the country to the south.
The floods have already killed over 1,600 people and have affected over 20 million.
Officials have warned that millions are currently at risk of epidemics of fatal diseases and lack of food and clean water in the flood-stricken country.
The UN has called for immediate action by the international community to address the deteriorating situation of the flood-hit people of Pakistan.